Amity, PA, resident Joe – a long-time Xfinity customer – felt like he took a trip back in time when he and his wife moved into their new home four years ago and had to switch to a different cable provider. No sooner after receiving a flier in the mail that Xfinity services were coming to his neighborhood, he saw an Xfinity truck outside his neighbor's house for an installation. The next day, he visited his local Pottstown Xfinity Store to sign himself up.
"It is a beautiful store – the team was great; they took care of me, and I was able to get everything I wanted. There is no comparison when it comes to the value of what I get with Xfinity compared to my previous provider. In addition to the Xfinity Voice Remote, one of the things I had missed the most about Xfinity was the "extras" – such as free On Demand content and free movies. I'm so happy to have that back," said Joe.
As an Internet customer, Joe and his wife decided to take advantage of Xfinity Mobile as well.
"Xfinity Mobile is great. We have two lines and even purchased a tablet at the store because it was such a good deal! I couldn't believe how easy it was to set everything up."
Another bonus, Joe is loving Comcast's new Large Button Voice Remote, which features extra-large buttons that are easy for him to use.
Fellow resident Cindy and her husband switched to Xfinity after more than 20 years with their previous provider, which had been the only option in town – until now. Their neighborhood was one of the first in Amity to get the news they could sign up and they didn't hesitate to make a change.
"Our technician was great; he was professional, he took the time to answer all of our questions and explained everything he was doing step by step, both inside and out," Cindy said.
About a month into having their new services, Cindy is thrilled with their new services and happy for her neighbors when she sees the Xfinity trucks roll down new streets in the area.
Getting our new Amity customers up-and-running wouldn't be possible without our dedicated team of technicians. They are the ones creating truly great experiences for these first-time, or returning, customers.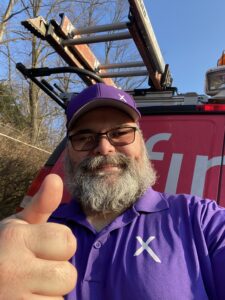 Harry Martin, an Xfinity technician of 15 years, has been involved in our expansion into Amity from the beginning. During the construction phase, residents would approach him asking how soon Xfinity services would be 'turned on' because they wanted to sign up.
"Since expanding into Amity, I've done many installations for first-time Xfinity customers, and the reaction is amazing. They've wanted Comcast to expand to their area and now that we have, they're thrilled," Martin said. "I love highlighting all of the features that come with Xfinity products and services, especially the voice remote… it makes it easy because our new customers don't have to learn how to use a new remote right away."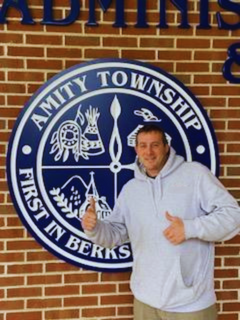 Kerry Miller, an Xfinity technician of eight years, echoes Martin's sentiments. Being from the area himself, he knows how long customers have been waiting for another provider to come to town, so there's been a lot of excitement from residents to have another option – something new and improved.
"Customers love all of the features that come with their Xfinity services – on top of getting the speed and reliability we offer," Kerry said. "It's been a great opportunity getting to install customers from day one. It's fun to go in and ensure the customer experience is great from the start."