During this unprecedented time, our employees – like many of our customers and neighbors – have learned to adapt and lean into a changing work environment. The unwavering goal of our technicians has been to keep our customers connected to the vital services they need to work and learn from home, while protecting our customers and themselves.
Despite the challenges, our employees have gone above and beyond in ways we never could have imagined to help our customers and communities.
We wanted to share a few examples: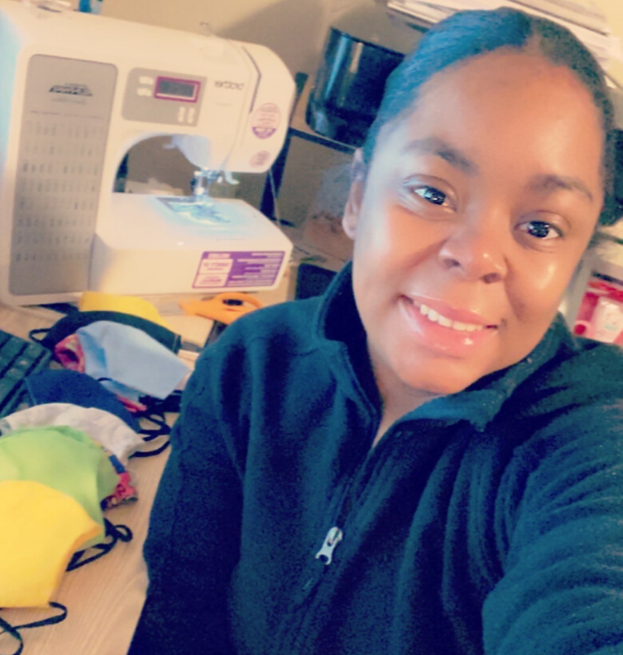 Three years ago, Leslie Brown, a customer experience associate in Union, NJ, took up sewing – a skill she never thought would be used to support her community in a time of need. Brown was scared for her mother who is an essential employee required to be on-site for her job, so she began making hand-sewn masks to protect her mom and co-workers. But then she kept sewing and has made more than 367 masks and counting – which she has distributed throughout her Irvington, NJ, community and beyond.
When the pandemic forced a national women's sports association to hold its televised draft from the home of the league's commissioner, our team ensured the show went on without a hitch for fans watching across the country. Our technical operations and network maintenance teams worked around the clock and even remained on site for the duration of the broadcast – just in case.
Comcast Business representatives across our region worked swiftly to help businesses transition employees and their services to remote working environments, including Drexel Hill-based ambulance company Stat Medical Transport, an essential company throughout the COVID-19 pandemic. Brendan Dougherty, Comcast Business account executive for Stat Medical, helped the company get a key dispatcher set up to work from home within 48 hours. Read more about STAT Medical Transport & Comcast Business, here.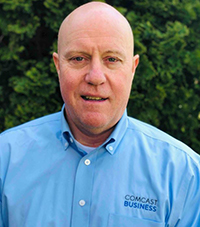 Another example is Center for Family Services, a Camden, NJ, nonprofit specializing in personalized care for families and individuals of all ages. They needed more bandwidth from their HQ data center and VPN access to help transition their more than 400 employees from 60 sites to a work-from-home structure that was safe and secure. The Comcast Business team was able to increase bandwidth overnight, while also setting up an "auto attendant" for their phone system in less than two hours. Read more about Center for Family Services & Comcast Business, here.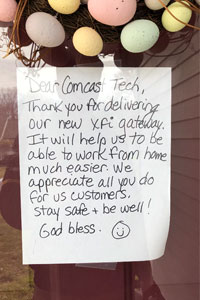 When the Coronavirus changed protocols for our technicians including limiting interactions within our customers' homes – to protect everyone's safety – face-to-face interactions were also limited. That did not stop our technicians from doing what was necessary to provide a great customer experience. Nor did it stop our customers from finding creative ways to express their gratitude like this note from a Vineland, NJ, customer.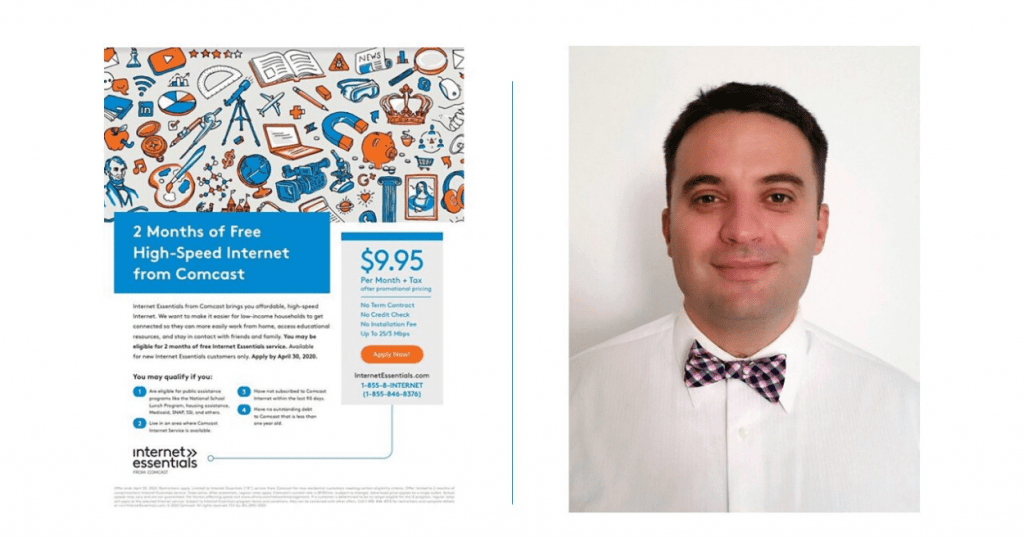 When schools and businesses shut down, the Internet became even more important than ever. As a company, we responded by offering Internet Essentials to new customers for 60 days for free (an offer that was just extended through the end of the year). We work with thousands of partners throughout our footprint to communicate this offering to help families in need but in Somers Point, NJ, the language barrier to their sizeable Albanian population became a concern. Translating materials into Albanian would have taken more than a week so our regional government affairs team thought outside the box and reached out to a corporate employee they knew was fluent in Albanian – he had the document translated in less than two hours allowing the school district to get this important information into the hands of their community members that much faster.
These are just some of the many stories our teammates have shared from residential customers, businesses of all sizes and types, nonprofits, school districts and community members. They serve as reminders that we can always find the helpers and acts of good during challenging times – they make us stronger as a company and as a community. We hope everyone remains safe and well and please know that we are in this together.
To learn more about Comcast's comprehensive COVID-19 response efforts, click here.