By: Chekemma J. Fulmore-Townsend, President and CEO, Philadelphia Youth Network
In 2015, educational and career pathways are more diverse than ever before. Advancements in digital technologies have created entirely new industries with career paths previous generations could never have imagined. Comcast is a prime example: a company that has evolved from a small cable system into a media and technology leader. It is clear that 21st century businesses need 21st century talent.
To address the current demand for youth employment and encourage support for increased public investments in workforce development, the Philadelphia Youth Network for the past 15 years has galvanized support through a citywide, cross-sector campaign called WorkReady Philadelphia. Last year, WorkReady provided more than 8,000 work experiences for youth during their six-week summer program, and experienced the highest level of business and philanthropic community support since the program's inception in 2003.
Each year, we realize increasing benefits from the power and influence from our business sector. WorkReady is more than just a collection of summer program models. It is a system of partners (from both the public and private sectors) working together to elevate the issue of youth employment throughout Philadelphia. This support system would not be what it is today without local organizations such as Comcast hiring interns throughout the summer and giving young people a chance to learn firsthand from some of Philadelphia's most prominent organizations.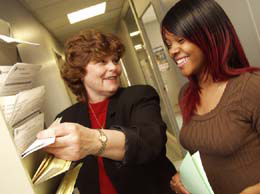 As the summer begins to wind down and the final week of the program comes to a close, I spend this time in reflection of the many achievements of our youth, as well as our outstanding network of supportive organizations that helped us achieve more than 8,000 opportunities for youth this summer. We have seen that if the public and private sectors work together, we can increase the scale needed to serve Philadelphia's youth. This idea of leveraging support is only successful with engaged and dedicated local businesses and philanthropic communities – and in Philadelphia we certainly have that. Together, we have created unique solutions to grow and prepare young people for career and educational success.
Last week, we celebrated alongside several of WorkReady's key partners and investors as well as nearly 400 young people at the WorkReady Expo. Each year we hold this celebration as an opportunity for young people to showcase the projects and many achievements they've earned throughout their summer experience. As a city, we paid tribute to everything that makes WorkReady Philadelphia what it is.
In order to build a talented and skilled workforce, young people must enhance their understanding and mastery of skills needed to become active and productive citizens. However, in order to ensure our system can sustain such a large undertaking, it requires a shared call to action by the entire business community.
Companies like Comcast recognize that by providing a young person with a summer work opportunity, they are investing in the future of their company, the future of their employees and the future of our entire city.
Allow us to help you build your next talent pipeline. Learn more by visiting www.workready.org.
———-
Read more about Comcast's internship program in Philadelphia here.