Comcast and the United Way of Greater Philadelphia and Southern New Jersey announced the expansion of an innovative Digital Navigator Network that currently serves Philadelphia residents. Digital Navigators are trusted individuals who work at community organizations to help people sign up for internet service and learn digital skills. Starting November 2023, residents of Bucks, Chester, Delaware, and Montgomery counties will also be able to take advantage of support for questions about digital access and where to learn digital literacy skills by dialing 2-1-1. The service expansion is supported by a $317,000 grant from Comcast that is part of Project UP, the company's $1 billion commitment to advance digital equity.
Comcast's partnership to scale the United Way's Digital Navigator Network builds on the company's long-standing commitment to bridge the digital divide in Pennsylvania. In addition to the grant, and to celebrate Digital Inclusion Week, Comcast donated 50 laptops each, 400 in total, to the eight nonprofit community organizations that are part of this network to support their critical digital navigation work.
"In today's digital age, access to technology and the skills to navigate it are fundamental to success in school, work and beyond," said Bill Golderer, CEO & President of United Way of Greater Philadelphia and Southern New Jersey. "To bridge the digital divide, people often need different types of help, sometimes from different organizations, over months or years. To meet their needs, each digital navigator in our network brings complementary strengths and services to the network, ensuring 2-1-1 can connect callers to the organization best suited to meet their needs."
Digital Navigators will help residents address the barriers that prevent some people from getting online – namely digital skills and access to devices. In addition, network organizations – which include: ACLAMO, Beyond Literacy, Chester Education Foundation, Drexel ExCITe Center, Esperanza, Literacy Council of Norristown, Media Fellowship House, and SEAMAAC – will collaborate, host educational events, raise awareness, and share resources and key learnings with each other to better address the needs of the community.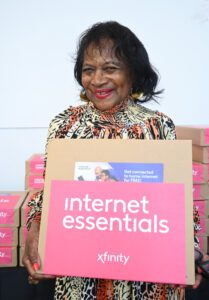 "Thanks to the Digital Navigator network, I received the support I needed to successfully sign up for the Affordable Connectivity Program and Internet Essentials Plus from Comcast," said Sandra Speight, a Philadelphia retiree who had trouble navigating the process on her own. "I am a long-time WDAS-FM listener and one day I heard a commercial for ACP and the 2-1-1 hotline. I called and was connected to a Digital Navigator from Beyond Literacy that I was able to meet with in person. I now have the connectivity I need, without the financial burden. I am so grateful for those resources. I wasn't alone thanks to the Digital Navigator network."
Dan Bonelli, Senior Vice President for Comcast's Freedom Region, said: "Digital Navigators and their work at the neighborhood level building digital skills and awareness of resources to help get residents online are critical to closing the digital divide. We are proud to support this innovative effort to meet residents where they are and make it easy for them to reach out and get the help needed to take advantage of all that the Internet has to offer."
Additionally, to help residents who may face issues with affordability, Comcast is offering exclusive Internet deals and spreading the word about eligibility for the federal government's Affordable Connectivity Program (ACP). ACP provides qualifying individuals with a discount of up to $30/month toward their internet service. With it, eligible Comcast customers can purchase either Internet Essentials or Internet Essentials Plus at no cost once the Federal credit is applied. Internet Essentials customers can also add a line of unlimited 5G cellular data ($45) through Xfinity Mobile for as little as $24.95/month, after the ACP benefit is applied. As a result, the ACP benefit could save them up to $360 a year.
Comcast is deeply committed to advancing digital equity in the communities it serves. The company's community partnerships in Pennsylvania over the past three years have totaled $144.7 million in cash and in-kind contributions to more than 646 local nonprofits. This investment includes the installation of more than 190 Lift Zones in Pennsylvania, which provide free WiFi service to local community centers to expand access to digital skills learning opportunities.
A similar Digital Navigator Network expansion to Pittsburgh area residents in Allegheny, Armstrong, Butler, Fayette, and Westmoreland counties and supported by Literacy Pittsburgh, Macedonia FACE, and YWCA of Westmoreland County is also being announced today. The model for these networks is the United Way Digital Navigator Network in Philadelphia that was developed through a grant from PHLConnectED, the City's initiative to provide free internet access to pre-K–12 students in need. PHLConnectED was launched with philanthropic support from Comcast, The Lenfest Foundation, Neubauer Family Foundation, Philadelphia School Partnership, William Penn Foundation, Fralic Family Fund, Hess Foundation, The School District of Philadelphia, select Philadelphia charter schools, and Independence Mission Schools.