Comcast announced a new round of 100 businesses in Philadelphia will receive comprehensive grant packages that include business consultation services, educational resources, a $5,000 monetary grant, creative production, media schedule, and a technology makeover. Comcast RISE is committed to supporting the growth of all small businesses, while advancing the objectives of diversity, equity, and inclusion, as well as community investment. The program was created to help businesses and their communities thrive with a focus on economic growth.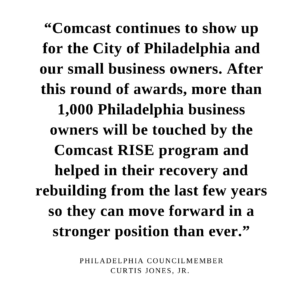 Beginning on June 1, and through June 30, eligible businesses in Philadelphia, Baltimore, Detroit, Memphis and Portland, can apply for a grant package at www.ComcastRISE.com. A total of 100 grants per city, or 500 grants overall, will be announced in August and awarded in September 2023, bringing the total number of recipients to date to 13,500 including 200 Philadelphia small businesses that received $2 million in grant awards and nearly 400 that received marketing or technology services packages.
"Small businesses are the backbone of our economy and are essential to building strong and thriving local communities," said Loren Hudson, SVP and Chief Diversity Officer at Comcast. "As small businesses transition from pandemic recovery to a focus on expansion and growth, Comcast RISE is proud to help strengthen and empower these deserving businesses and entrepreneurs."
Comcast RISE stands for Representation, Investment, Strength and Empowerment. Comcast RISE was created in November 2020 to help small businesses hardest hit by COVID-19, from bakeries and barber shops to childcare centers and cleaning services, by providing the grants needed to survive and recover. The program will evolve from helping businesses survive the pandemic, to helping businesses and their communities thrive with a focus on economic growth.
"Comcast continues to show up for the City of Philadelphia and our small business owners," said Philadelphia Councilmember Curtis Jones, Jr. "After this round of awards, nearly 1,000 Philadelphia business owners will be touched by the Comcast RISE program and helped in their recovery and rebuilding from the last few years so they can move forward in a stronger position than ever."
Renee Harris, CEO of STEM Prep Academy, an independent pre-school and Kindergarten with a mission to expose early learners to STEM education, received a Comcast RISE Investment Fund Grant in 2022. She stated the following: "The last couple of years have been unsettling. We had to close our doors and learn to operate in a new-normal just like every other school. The Comcast RISE Investment Fund grant was a lifesaver. It went directly to paying our dedicated staff who work so hard for our families."
"Comcast is committed to taking tangible actions that drive long-term impact and change," said Dan Bonelli, Senior Vice President, Comcast's Freedom Region. "Comcast RISE helps small businesses grow, create jobs, and play a vital role in supporting our communities. This new round of Comcast RISE grant packages provides all the elements necessary to help businesses scale and thrive for years to come."
Grant packages will include:
CONSULTATION: Assessment of business and tactical planning; business to business coaching; and mentorship to advise on how to grow business.
EDUCATION RESOURCES: Educational content and resources tailored to individual companies based on where they are in their business lifecycle.
MONETARY GRANT: $5,000 monetary grant to invest in growth and sustainability.
CREATIVE PRODUCTION & MEDIA: Turnkey production of a 30-second TV commercial, plus a media strategy consultation and 180-day media placement schedule.
TECHNOLOGY MAKEOVER: Computer equipment and Internet, Voice and Cybersecurity services for 12 months. (Taxes and other fees may still apply for tech makeover services.)
Through the Comcast RISE program all recipients will receive a monthly newsletter that includes educational content. In addition, any small business owner can visit the Comcast RISE destination on the X1 platform featuring aggregated small business news, tips, insights, and more. Just say "Comcast RISE" into the X1 voice remote.
Comcast RISE is part of Project UP, the company's comprehensive initiative to advance digital equity and help build a future of unlimited possibilities.
More information on eligibility requirements and how to apply for the grant program are available at www.ComcastRISE.com. Or, check out this information sheet on Comcast RISE.
To announce the launch, we were joined by Philadelphia City Councilmember Curtis Jones Jr.; Pennsylvania State Senator Vincent Hughes; African American Chamber of Commerce of Pennsylvania, New Jersey and Delaware President Regina Hairston; previous Comcast RISE Investment Fund recipients Renee Harris of STEM Prep Academy and Donna DuBose of DuBose Printing; the Haverford Avenue Business Association and WURD-FM's Tiffany Bacon, who served as emcee.
Check out this highlight reel from the day's events: