The pandemic has exacerbated our city's digital divide. This is especially true for Philadelphia's immigrant communities, which are often at a disadvantage when it comes to adopting digital tools and digital skills training. As a result, they are precluded from some of the fundamental benefits of digital connectivity. Working with Welcome.US, a national initiative built to assist refugees, Comcast is supporting two local nonprofits dedicated to immigrant advancement and inclusion— awarding a $15,000 grant and 250 laptops to the Welcoming Center and 1,000 laptops to Nationalities Service Center. For these two Philly nonprofits, the past few years have provided an opportunity for greater impact.
Efforts to equip communities with the technology they need and increase Internet adoption are part of Project UP, Comcast's comprehensive initiative to advance digital equity. Comcast has made a $1 billion commitment to connect people to the Internet as a means of advancing economic mobility and opening doors for the next generation of innovators, entrepreneurs, and creators. And, with Comcast's participation in the federal government's Affordable Connectivity Program, which provides eligible low-income households with a credit of up to $30 per month toward the cost of their Internet and/or mobile service, the Internet is more affordable and accessible than ever before.
The program is a reminder that making measurable impact for our immigrant community starts with addressing the basics.
"Our focus traditionally has been on helping connect people to employment but also to start and grow businesses," says Peter Gonzales, President and CEO of the Welcoming Center, a nonprofit that promotes inclusive economic growth through immigrant integration and has been serving Philadelphia's immigrant population for 20 years. "Language is the common barrier that most of our participants face—we can't connect them to larger opportunities without that English language foundation. That is why we developed courses specifically for English as a Second Language and integrated this with all of our other programming."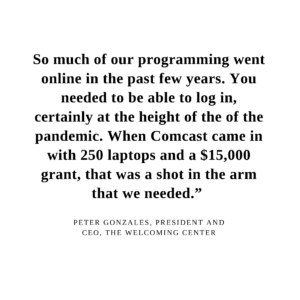 Since joining the Welcoming Center 10 years ago, Gonzales says their programming has grown and evolved.
"About eight years ago, we launched the International Professionals Program, designed to support immigrants coming to the U.S. with a bachelor's degree or the equivalent," he says. "Instead of helping them connect to a gateway job or an entry-level job, we help them think through how they can apply their experience and education in the U.S. market. The goal is to get immigrants back into their chosen profession, into careers that require the skills and training they already have."
For Margaret O'Sullivan, Executive Director of W (NSC), meeting essential needs starts before individuals even set foot in Philadelphia.
"We bring people in, we help them find safety through resettlement and anti-human trafficking programs," says O'Sullivan, who began her humanitarian career with the Red Cross, working both locally in Philadelphia and internationally, before joining NSC in 2014. "We meet their basic human needs, and then once those needs are met, we work with them on economic opportunity, English proficiency, and gaining legal status in the U.S."
NSC works to welcome and aid immigrants, refugees, and asylum seekers by putting them on a path to self-sufficiency and creating a safe and permanent residency. Tiffany Thompson, the Director of Education and Economic Opportunity at NSC, is incredibly proud of the work she and her team do for Philadelphia's immigrants and refugees.
"We offer a holistic approach—it's not about one area. We do case management, we do employment programs, we do therapy, and the list goes on and on," says Thompson. "The employment and language pieces are two critical things that our clients need to be successful and independent in the United States, so we take that very seriously. We give everything that we have to each client that walks through our doors, and we are dedicated to giving them all the services that they might need."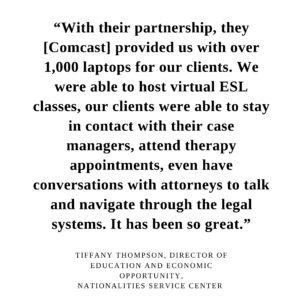 While the Welcoming Center and NSC fill distinct community roles, both help new Americans with acquiring computers, affordable Internet, and digital skills training, so a partnership with Comcast made sense.
"If you aren't connected digitally, especially during the pandemic, you're not getting grants, you're not getting a doctor's appointment as easily, you're not getting your bills paid—so many things we all depend on and many of us take for granted," says Gonzales. "And of course, you're not connecting socially. So much of our programming went online in the past few years. You needed to be able to log in, certainly at the height of the of the pandemic. When Comcast came in with 250 laptops and a $15,000 grant, that was a shot in the arm that we needed."
"Before the pandemic even began, Comcast had helped us fund our digital literacy lab. Once the pandemic hit, their support only increased," says Thompson. "With their partnership, they provided us with over 1,000 laptops for our clients. We were able to host virtual ESL classes, our clients were able to stay in contact with their case managers, attend therapy appointments, even have conversations with attorneys to talk and navigate through the legal systems. It has been so great."
Addressing the digital divide in our city requires a multipronged approach and collaboration with organizations that already have deep roots in the community. This is something that Comcast recognizes as it works to increase digital equity in Philadelphia.
"We love working with incredible community organizations like the Welcoming Center and NSC," says Bob Smith, Vice President of Community Impact for Comcast's Freedom Region. "The data is clear: As goes the success of our immigrant communities, so goes the success of our city. The Welcoming Center and NSC's tireless efforts make a true and tangible change in our city, and Comcast is proud to stand with them as we work to improve digital equity and increase economic opportunity for all Philadelphians."