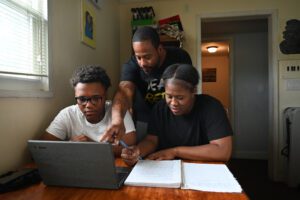 Bilal has been an Internet Essentials customer for more than two years, but the single father of two wasn't always connected to the Internet at home. With a job that kept him on the road much of the day, a daughter in college and a son who spent most of his time outside playing sports, he didn't feel the Internet was necessary for his family. Then the pandemic struck and changed everything.
In 2020, a friend at the United Way of Bucks County told Bilal about Internet Essentials, the nation's largest and most comprehensive private-sector broadband adoption program for low-income households. Internet Essentials has connected more than 10 million people to low-cost, high-speed Internet at home in the last 10 years. As a result of the pandemic, Comcast launched the Internet Essentials Partnership Program so school districts and other organizations can fund and quickly connect students and constituents to broadband access.
Locally, St. Mary's Medical Center and the United Way of Bucks County partnered with Comcast to provide Bucks County residents in-need access to Internet Essentials for remote learning, work, telemedicine and more at no cost. Bilal was able to benefit from this program for a year and received a free laptop from the United Way of Bucks County, as well.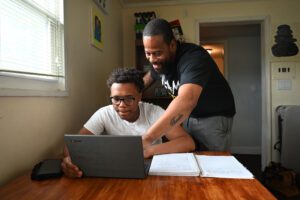 "Internet Essentials is a great program because not everyone can afford the Internet, especially single-parent households like my own. Without the Internet, my son would not have been able to do his homework or keep up with his classwork when school went remote during the pandemic. Thanks to Internet Essentials, he didn't fall behind," said Bilal. "I was also able to use the Internet to fill out paperwork for my daughter and son's schools and complete training videos and Zoom calls for work. It was a lifeline."
Recently, Bilal stopped by his local Xfinity Retail Store in Langhorne. During the visit, Vanessa, the representative assisting him that day, told him about the Affordable Connectivity Program (ACP), a government program that provides up to $30 off Internet bills for low-income households, which Comcast is proud to support. Vanessa helped Bilal start the sign-up process. He is now using the $30 credit to cover the cost of his Internet Essentials service, at $9.95/month, and part of his monthly fee for Xfinity Mobile service.
"As a single dad, I know that every bit of help goes a long way; any program that provides aid to families in need is a huge relief – whether that's in the form of food or Internet service. I wanted to share my story to help spread the word about the Internet Essentials program, as well as the Affordable Connectivity Program. I want more people to know about it!"