Our region faces a troubling education gap: While New Jersey boasts one of the nation's highest percentages of PhDs (1.5%), about 10% of adults in the state have not received their high school diploma. In Philadelphia, more than 17% never completed high school.  
Into this divide steps Goodwill Industries of Southern New Jersey & Philadelphia, which, with the help of Comcast, has been working to provide job training, educational opportunities and internet resources to constituents in New Jersey and the Greater Philadelphia region. Through partnerships with local community colleges, Goodwill helps participants dual enroll in community college and their Helms Academy, which assists students in obtaining their high school diploma.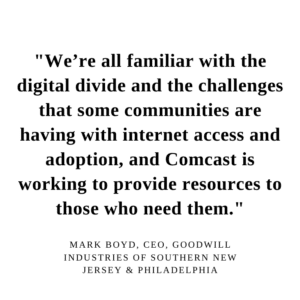 Mark Boyd has been CEO of Goodwill Industries of Southern New Jersey & Philadelphia for 17 years, and previously served as labor commissioner for the State of New Jersey.
His time as labor commissioner, running federally funded job training programs for the state, instilled within him a strong desire to prioritize educational opportunities for adults. When he made the transition to Goodwill, he brought that drive with him. 
"The place that always attracted me since my days in the Department of Labor was the adult alternative high school program," Boyd said. "And I felt that this would be a really great place for us to participate." 
Since the Goodwill program's founding in 2013, nearly 150 graduates, a mix of employees and members of the larger community, have obtained their high school diplomas, earned credit toward their college degrees, and completed valuable job training, all of which provide them the opportunity to upskill into higher paying jobs. In the process, they have gained crucial skills that help them compete in the job market.
"The tools of today are a computer and reliable internet service," said Boyd. "We're all familiar with the digital divide and the challenges that some communities are having with internet access and adoption, and Comcast is working to provide resources to those who need them. That is why we really value this partnership so much."  
Comcast's support of Goodwill and the Helms Academy has included free computers, free and low-cost internet service for community members and most recently, a Lift Zone, which has already had a profound effect on the area. Lift Zones are WiFi-enabled community spaces that provide internet service to those who are unable to participate in distance learning at home. When combined with the federal Affordable Connectivity Program, which gives low-income Americans a $30-a-month credit toward their internet bills, this work has helped make the internet more affordable and accessible than ever. These initiatives are part of Project UP, Comcast's comprehensive initiative to advance digital equity and help build a future of unlimited possibilities. 
"Comcast is thrilled to work with Goodwill to support its educational programs," said Bob Smith, Comcast's regional vice president of community impact. "Goodwill's focus on adult education has benefited not just program participants, but their families and communities as well. Every day we rely on partners who are working hand-in-hand with community members to increase internet adoption, and their incredible efforts lead to impact beyond measure." 
Click here to learn more about Goodwill's educational programs and job training services.