Comcast was recently named Educator of Year by the Research & Development Council (R&D Council) of New Jersey as part of their 2021 Thomas Edison Patent Awards. We were recognized for our efforts to close the digital divide for New Jersey students through Internet Essentials – the nation's largest and most comprehensive broadband adoption program for low-income households, which has connected more than 276,000 New Jersey residents since 2011.
In their announcement, the R&D Council said of Comcast, "The COVID-19 pandemic has served as an accelerant to correcting a long-existing problem, where many of the state's children from low-income families do not have access to technology to effectively learn at home. By providing free and/or low-cost Internet access to low-income families, Comcast minimized the digital divide so more New Jersey students could learn and engage online while school buildings were closed."
To ensure students and families in New Jersey, and across the country, could stay connected during the COVID-19 pandemic, Comcast offered new customers Internet Essentials free of charge for 60 days; opened Xfinity WiFi hotspots in businesses and outdoor locations to all; forgave past-due debt and worked through our Internet Essentials Partnership Program to help school districts and other organizations provide broadband access to large groups of individuals in need.
We also engaged our nonprofit partners to create more than 1,000 WiFi-connected Lift Zones in community centers nationwide to help students and adults get online, participate in distance learning or remote work, do homework or look for a job. Locally, Comcast has launched more than 30 Lift Zones in New Jersey. To learn about our company's full COVID-19 response, click here.
Stephanie L. Kosta, vice president of government affairs for Comcast's Freedom Region, accepted the award on behalf of Comcast during the 42nd Annual Edison Patent Awards ceremony at Liberty Science Center in Jersey City last month.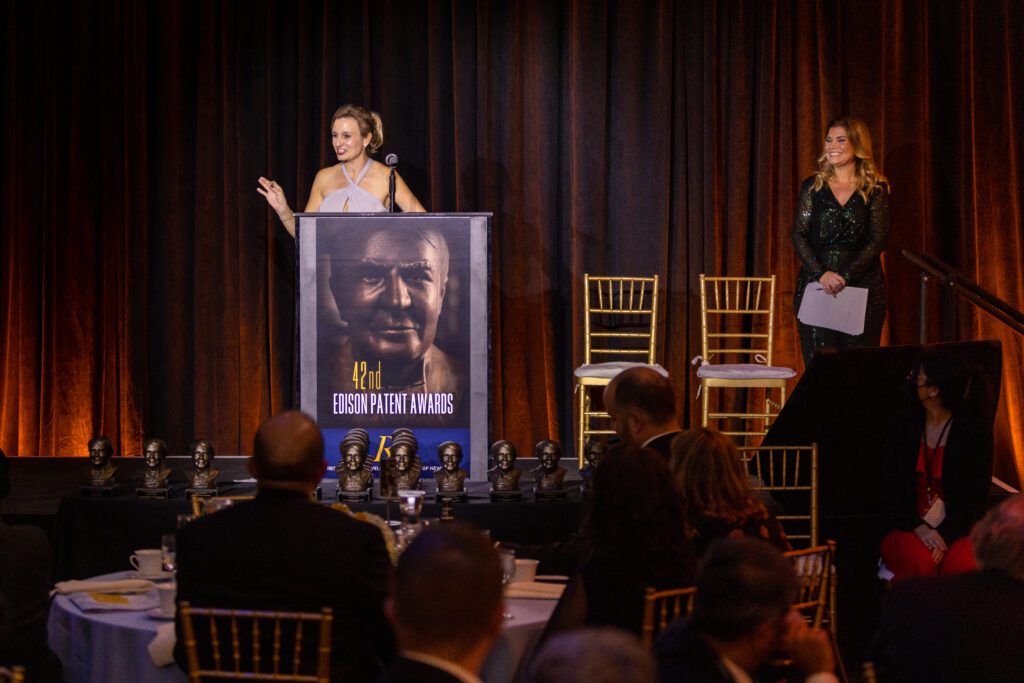 "We're proud of the progress we've made to close the digital divide, along with our incredible community partners but we know that there is much more to be done and we're committed to continuing this important work," said Kosta.
"Internet Essentials has helped my twin daughters who have been doing a lot of remote learning, especially during the pandemic. Having access to the Internet has helped them stay on track, excel and continue their education while learning from home. They even spent additional time online, checking out different curriculums available through the Internet Essential's learning center, which has helped them advance as well," said Internet Essentials customer Nechole W.
In celebration of the tenth anniversary of Internet Essentials, Comcast recently launched Project UP, a $1 billion commitment to reach 50 million people with the tools, resources, and skills needed to succeed in a digital world. Locally, that includes partnerships with community-based organizations, support of PHLConnectED, the launch and installation of regional Lift Zones, and support of more than 600 diverse small business owners through Comcast RISE.
Check out this video about our efforts that was shared during the 2021 Thomas Edison Patent Awards ceremony:
Representing Comcast's Freedom Region at the 2021 Thomas Edison Patent Awards ceremony were, pictured left to right, Bob Smith, vice president of community impact; Kimberly Smith, director of community impact; Stephanie L. Kosta, vice president of government affairs; Kim Case, executive director of the Research & Development Council of NJ, who presented Comcast with the award; and Robert Clifton, senior director of government affairs, Comcast.