Comcast has long believed in the power of partnerships to increase digital access and support job training initiatives, and the last year and a half has made those resources more necessary than ever. One long-standing partner, Philadelphia Opportunities Industrialization Center (OIC), helps residents gain digital literacy skills that will be essential to thrive in a post-pandemic economy.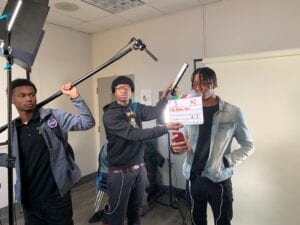 Rooted in a mission to fight poverty and expand opportunity through job training and education, Philadelphia OIC works with Comcast to provide digital literacy programs to help people gain essential skills for the working world. Together, Comcast and Philadelphia OIC have brought digital literacy classes to churches, community centers and schools to empower students and teachers. They have also delivered video production classes, provided tools to digitally track where to find healthy food options and more.
"Our partnership with Comcast really helped us usher in that new vision of where we're moving toward in the 21st century," says Aisha Dennis, chief operating officer at Philadelphia OIC. "The relationship we have with Comcast is vast. It's not just technology-based. Comcast's support has extended to providing us human capital to help us with a variety of needs. Overall, their willingness to work with us to serve the population we serve is big."
History and Mission
Philadelphia OIC was founded in 1964 by Rev. Leon H. Sullivan, an influential civil rights leader who organized in opposition to workforce discrimination. Ever since its founding, OIC has helped countless Philadelphians gain meaningful work.
"Whether it's 1964 or 2021, Philadelphia OIC is working to train Philadelphians with the skills needed for successful and meaningful working lives," says Dennis. "We are looking to continue Rev. Sullivan's mission to eradicate poverty through job training and education."
"We are a cohesive group. While small in numbers, we are a mighty group with a lot of grit," adds Will Davison, vice president of marketing and communications. "Most people that work at Philadelphia OIC have a connection to the organization. We are all rooted in the mission to help people help themselves because most of us have a relative that gained skills or training in one of our programs in the past."
In-House Digital Literacy Programs
Philadelphia OIC offers multiple levels of digital literacy training, depending on a given student or adult learner's experience. Philadelphia OIC helps beginners learn to use a mouse and navigate computer applications. During COVID, Philadelphia OIC staff helped grandparents use video chat applications to communicate with loved ones while they quarantined.
"Being able to offer various levels of digital literacy is important because Philadelphia OIC has always been focused on meeting you where you are," says Dennis.
Philadelphia OIC also teaches intermediate users to work with Excel, Word and Google Docs, and entrepreneurs to create interactive business websites and grow their business using blog posts and other social media tools.
Mobile Lab Digital Literacy Programs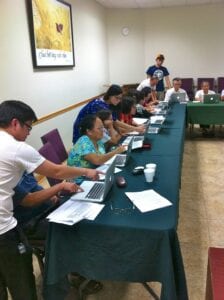 Dennis says that Comcast's support has enabled OIC to do more to increase digital access and offer more digital literacy training out in the community.
Using a mobile lab prior to the pandemic, Philadelphia OIC has brought digital literacy to community centers, churches and schools in recent years. Partnering with schools, they have trained children and parents to use online resources, including to look up student record information and keep track of report cards.
OIC also partnered with Comcast, Thomas Jefferson University and the Food Trust to teach middle school students how to read nutrition labels and to digitally track where to find healthy food options in their neighborhood.
"That program helped our students to see that digital literacy is not just limited to using the computer for basic functions," says Dennis. "Students got to see that technology can be used in many ways to improve lives. That exposure would not have taken place had it not been for Comcast."
Digital Media Learning
With Comcast's support, Philadelphia OIC launched a digital media learning opportunity for students at its high school, Philadelphia OIC Workforce Academy, a tuition-free accelerated public high school that offers a certificate program for students to gain work skills. In partnership with Big Picture Alliance, the digital media program teaches students how to create a documentary with camera training, editing skills and more.
"This program was really important to us. It exposed students to something they have never been exposed to before," says Dennis. "A lot of our students didn't think they would ever learn how to create or edit a video. For them to learn those skills and realize the career opportunities was particularly inspiring."
For more information on OIC activities, follow the newsfeed on philaoic.com, or their social media pages: Facebook, LinkedIn, Twitter, Instagram and Medium.