By: Danielle Cohn, Comcast Senior Director of Entrepreneurial Engagement
Recently, our Chief Business Development Officer Sam Schwartz and I had the pleasure of representing Comcast NBCUniversal as we joined with tech news site Technical.ly to launch the "Tomorrow Tour," a multi-city event series to explore and document how technology, entrepreneurship and innovation converge to strengthen cities.
Dozens of startup leaders participated in a day session at Quorum at the University City Science Center that included case studies from successful local businesses, as well as civic and education leaders.
To share a bit of what was discussed, Rick Nucci of Philadelphia-founded Guru highlighted the reasons entrepreneurs choose Philadelphia, ranging from the continuity of talent to our city's authenticity. SmartyPAL's Pasanna Krishnan dove in on what startups need to grow, including access to talent and early adopters of products. We then took a deeper look at the entrepreneurial ecosystem in Philadelphia with Archa Sahay from the City of Philadelphia, Scott Andes of the Brookings Institute, and Keith Orris of Drexel University.
I participated in a panel on Philadelphia's position in the national entrepreneurship conversation, with a focus on the local tech community, including representatives from Curalate (one of the fastest-growing startup in the city), Wallsome (a new e-commerce site) and the University of Pennsylvania. It was a broad-ranging discussion that covered economic diversity in the city to how much we should value getting Philadelphia on "best of" lists. One of my passion points through the conversation was the importance of growing the diversity of our city's startup community—expanding our networks to people who don't necessarily look like us is incredibly important. We must strive to share this exciting growth opportunity with emerging entrepreneurs and technologists from all of our city's neighborhoods.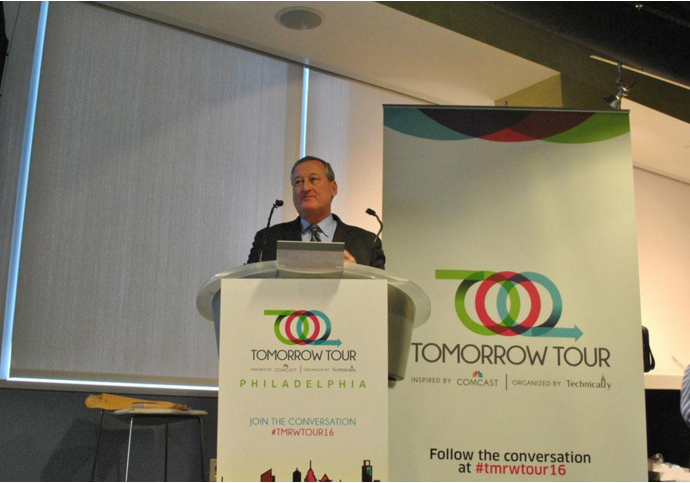 It was a testament to the importance of the topic that Mayor Jim Kenney stopped by in the afternoon to share his thoughts on the City's entrepreneurial community, and the need for further cultivating the innovative spirit in Philadelphia to inspire and impact even more people.
The event transitioned into an evening networking session and a keynote speech from Apu Gupta of Curalate, one of the region's biggest entrepreneurial success stories in recent years.  He discussed building and growing his visual commerce startup in Philadelphia, and how we should all shift our thinking from "Why Philly?" to "Why Not Philly?" To finish out the evening, Technical.ly's Juliana Reyes moderated a panel discussion featuring Sara Merriman from the Philadelphia Department of Commerce and startup leaders, including Gabriel Mandujano of Wash Cycle Laundry, Jon Gosier of Cross Valley Partners, and Brock Weatherup, the new volunteer president of Philly Startup Leaders, which generated a broad discussion on the state of our community.
I was overwhelmed by the stories shared by our local startup leaders about both their successes and failures. And plenty of ideas were shared about what we can all do—from one person with a great idea to a Fortune 50 company like Comcast—to help bolster support for our community and amplify our efforts through storytelling. My Comcast NBCUniversal colleagues and I were excited to sit alongside established and emerging entrepreneurs, discussing what's possible when entrepreneurship, technology and innovation converge to make our hometown of Philadelphia even stronger.
There were many tremendous takeaways from the day—one in particular is that we have so much to be proud of as an entrepreneurial community in Philadelphia.  We live in a tremendous city with great resources and a deep talent pool – and we need to highlight all that we offer as a business community as we continue to develop and share our narrative.  I hope this initiative helps amplify all of the important work already underway in Philadelphia.
Over the next two months, we will take this tour to other cities, hosting similar conversations in Denver, Miami, Chicago, Detroit and Atlanta – but we started in Philadelphia for a reason. Comcast began as a startup more than 50 years ago in the Philadelphia region and has become a global leader in media and technology. We're proud to connect with innovators to partner, provide guidance and work alongside the next generation of startups.
Follow us on tour using #TMRWTour16, and check out TomorrowTour.com for photos, videos, stories and key links, including a free e-toolkit for entrepreneurs being developed by Technical.ly and Comcast NBCUniversal, based on our experiences and learnings from communities on the tour.
For more on the Tomorrow Tour launch, see coverage from Technical.ly Philly, Al Dia and Philadelphia Magazine.