By Chip Goodman, Comcast Regional Vice President of Marketing
With the holidays upon us, we have all begun descending on malls and shopping districts to buy presents for our kids and loved ones.  If you're anything like me, while out shopping for gifts you'll be texting family members to triple check the style or size that is on the wish list.
Over the past several years, smart shoppers have taken that a step further to ensure they're getting the best deal. "Showrooming" is when you go out and shop for an item in a store, but then check online to see if you can buy it somewhere else cheaper.  Retailers are fighting back by matching those online prices in the store on the spot.  At the same time, holiday sales and promotions are starting earlier and popping up all over social media and your favorite store's website.  What all this means is shopping has gone digital and real-time.
So, to help you get the best deals this season, you'll want to go out with your smartphone (or tablet) and you'll want to find a fast, reliable Wi-Fi connection.  If you're an Xfinity Internet customer, then you can save time and money when shopping at many locations throughout Greater Philadelphia and New Jersey that are loaded with free Xfinity WiFi hotspots.  To help you out, we've assembled a list of the top five shopping areas for using Xfinity WiFi.  If you don't see your favorite shopping place on the list you can always check the online map or download the Xfinity WiFi app so you can find a hotspot near you.  Visit www.xfinity.com/wifi.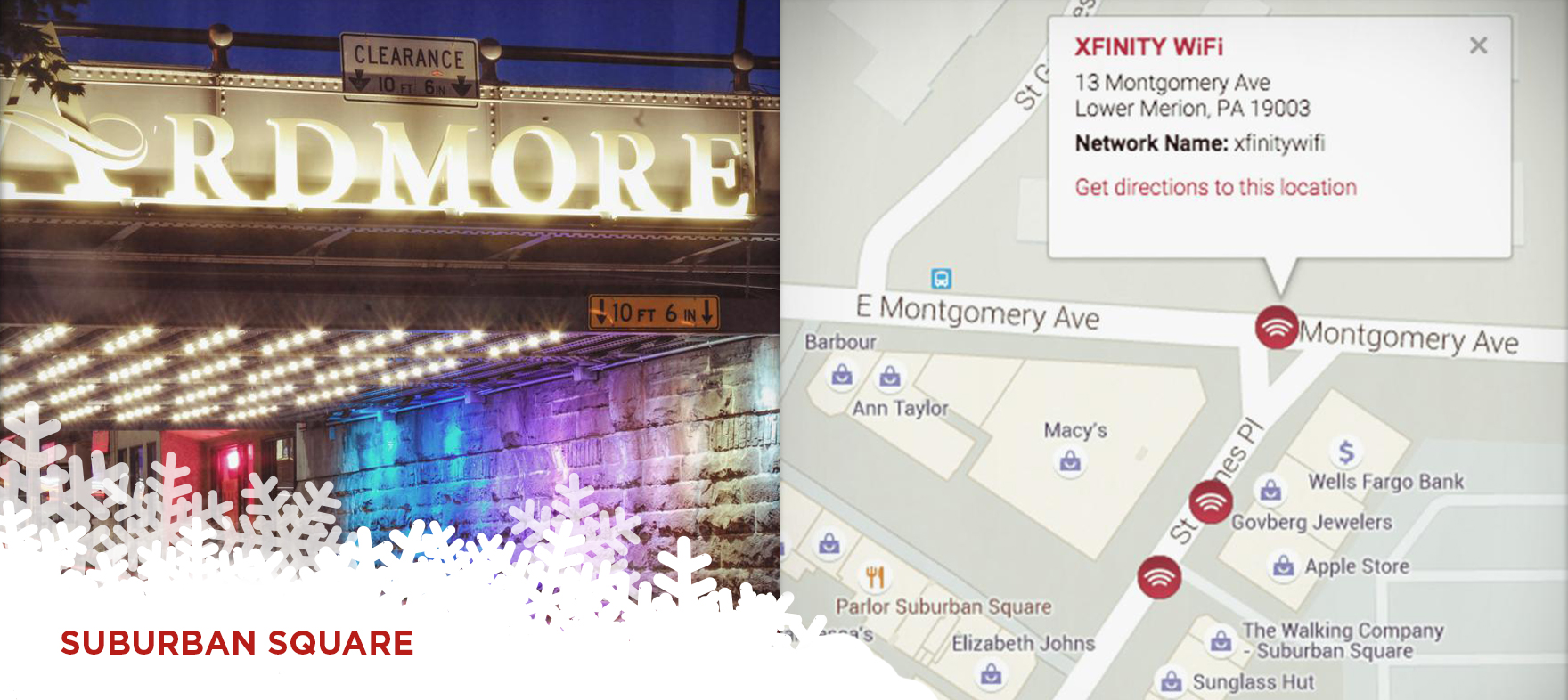 Suburban Square. This open-air mall with restaurants and a popular farmer's market is located on the Main Line about 9 miles from Center City.  There are more than 10 Xfinity WiFi hotspots scattered throughout the chic shopping and eating plaza so while you're there, you can hop on near J Crew, Banana Republic and the Apple Store. There's also one near Ruby's Diner so you can shop online and rest your feet while downing a RubyBurger with fries and a chocolate malt.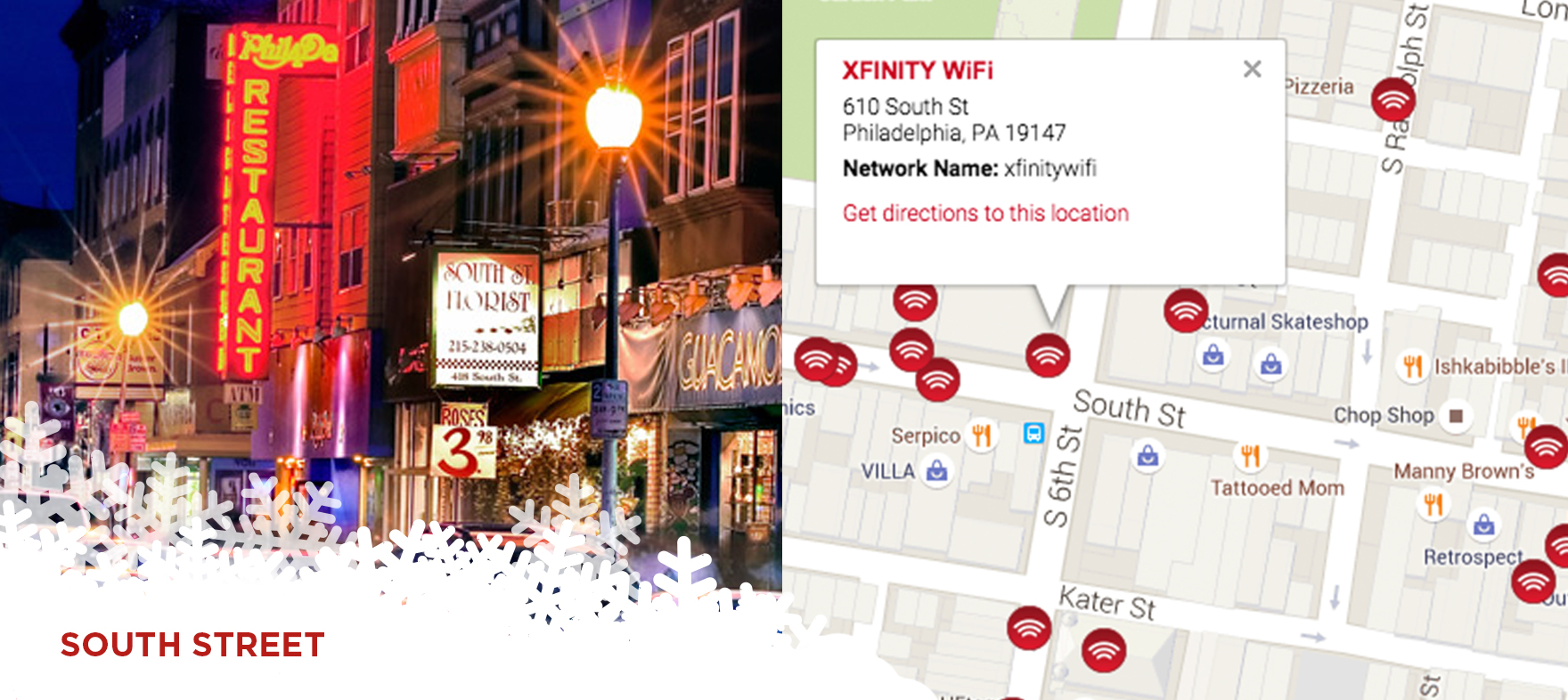 South Street. Friday and Saturday nights are hopping along the South Street shopping district that spans for roughly 14 blocks and runs from Front Street to Broad Street in Philadelphia.  There are more than 300 shops, 60 eateries and more than a hundred hot spots in outdoor locations and small businesses, including one at Paddy Whack's Irish Sports Pub where you can regroup over a pint before going for a second round…of shopping.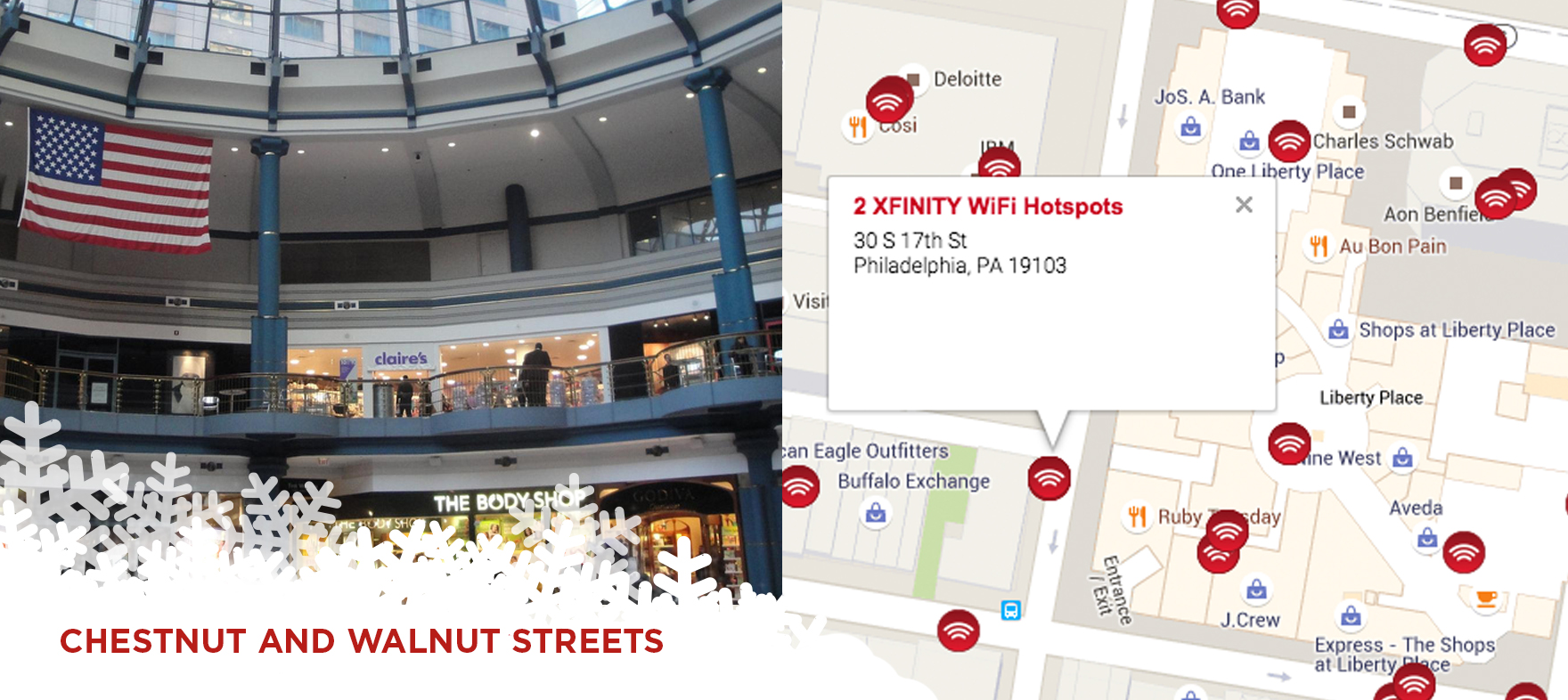 Chestnut and Walnut Streets. These two popular streets that run through downtown Philadelphia are peppered with Xfinity WiFi hotspots.  So while you are perusing shops in and around the Liberty Place mall  on Chestnut Street or deciding what store to go in next on Walnut Street you can check your email to see if any last minute coupons or flash sale promotions have come through.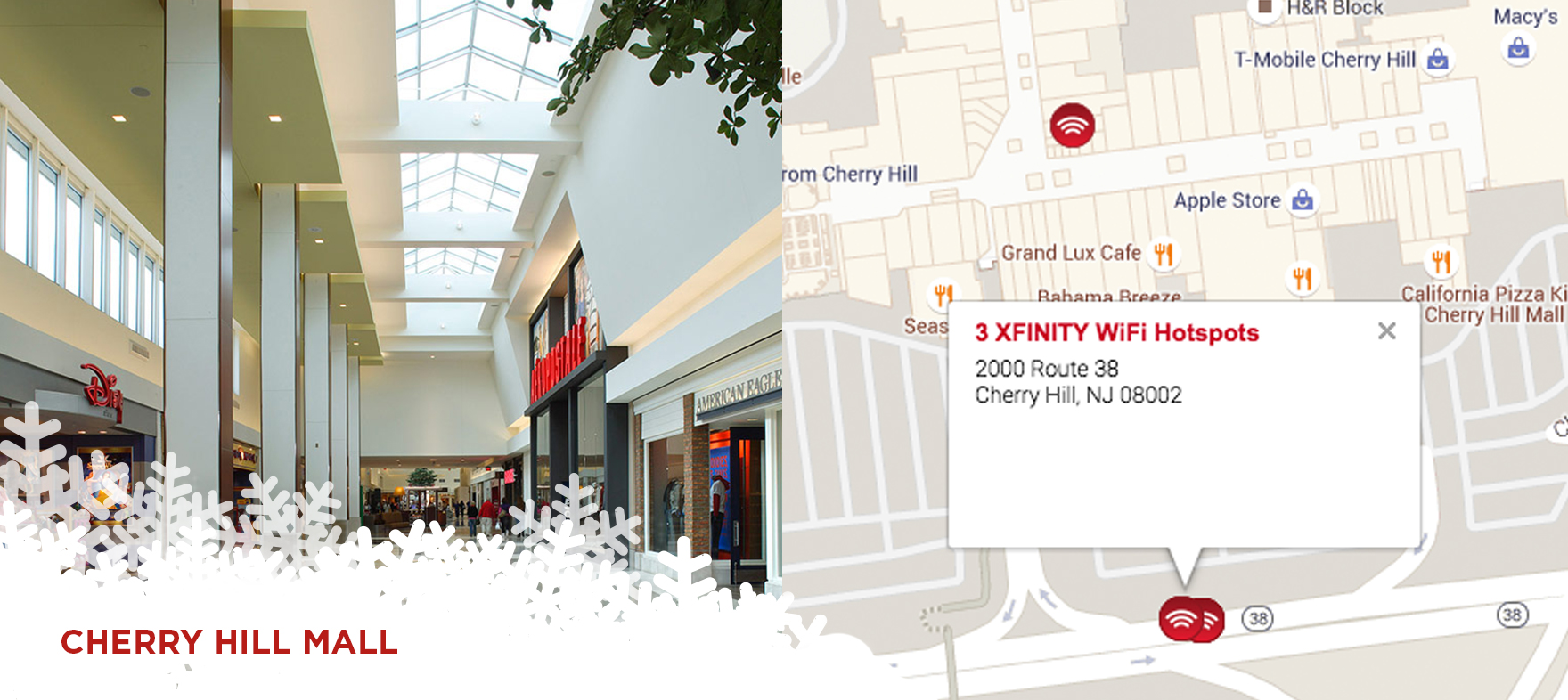 Cherry Hill Mall. There are more than 30 Xfinity WiFi hotspots at locations in and around the Cherry Hill Mall in New Jersey.  Hotspots are located in strategic locations so shoppers can get online to do numerous things like price compare or even update their social media status, maybe while the kids enjoy the Build-A-Bear Workshop.
Monmouth Mall. This mall is known as one of central New Jersey's leading shopping destinations with stores including Macy's, Lord & Taylor, JCPenney and more than 120 places to shop and dine. Located in Eatontown, New Jersey and minutes away from the Jersey Shore beaches, this shopping center also has Xfinity WiFi hotspots. In addition to getting online to price comparison shop, Wi-Fi hotspots make it easy to post your favorite holiday mall photos taken with Mr. and Mrs. Claus.