This back-to-school season, our Internet Essentials team is busy attending events throughout the City and region to help spread awareness of the program so more families can cross the digital divide and bring the power of the Internet into their homes.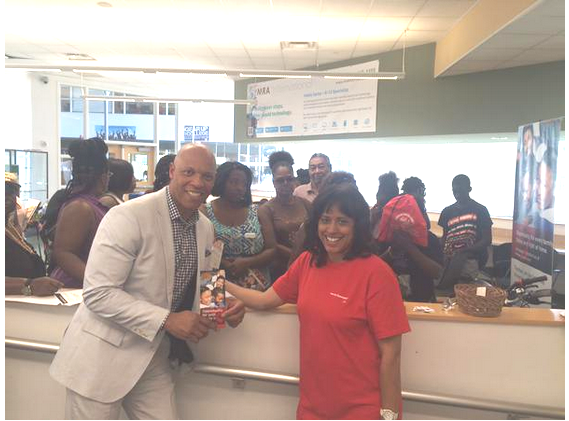 In Philadelphia, Comcast's Kathleen Sullivan and Sharon Powell are working closely with City Council members in each district to attend events organized for local constituents. Most recently, we hit the stage at Curtis Jones' Block Captains Boot Camp & District Festival on August 15th, met with hundreds of attendees at the Nicetown Community Festival during the first weekend of August, and, of course, raffled laptops and more at the School District of Philadelphia's tremendous E! Day. It was an amazing event filled with resources and giveaways to help families get ready for the return to school.
Look for us at these events over the coming weeks:
Jannie Blackwell's Echoes of Africa celebration, August 22

Mercy Vocational High School Back to School Barbecue, August 31

Kenyatta Johnson's Community Appreciation Day, September 12

Darrell Clarke's Strawberry Mansion Day, September 12

Bobby Henon's Fall Fest, September 19

Our Lady of Calvary's Family Movie Night, September 19

Maria Quinones-Sanchez & CONCILIO's Boricua Fest 2015, October 4
Beyond our hometown, the team is hard at work bringing the Internet Essentials to parents, teachers, students and others at a host of community-based events:
Chester Upland School District's Back to School Picnic and Back Pack Giveaway, August 27

Wilmington City Councilman Darius Brown's Back to School Event at Kirkwood Street Park, August 27

Trenton School District Back to School Extravaganza, August 28

Better Living Center Back Pack Giveaway in Chester, Pa., August 30

Pennsylvania State Rep. Margo Davidson's Annual Back to School Picnic and Back Pack Giveaway in Darby, Pa., Sept. 12

Newark, Del. Community Day, Sept. 20

La Comunidad Hispana's Vive Tu Vida in Kennett Square, Pa, September 26

Chichester School District's Family Resource Night, September 29
For more information about Internet Essentials from Comcast, call 1-855-8-INTERNET or visit www.InternetEssentials.com.