By Denis Devine, Communications Chair for Friends of Adaire
When my wife Kate Hughes and I helped found Friends of Adaire two years ago to support the nearby public K-8 school, we couldn't have imagined 250 volunteers transforming the location in a single morning. But then, we didn't yet know that Fishtown's Alexander Adaire Public School had a very important friend and neighbor named Ryan Olah, and we didn't yet know about Comcast Cares Day.
On Saturday, April 25, the culmination of months of work by Ryan and his Comcast colleagues, Ali Porecca and Chris Powell, transformed the Adaire school inside and out.  More than 70 Comcast employees, their family and friends, joined 180 volunteers from the Friends of Adaire and the community for a remarkable day of service to a school in need. I could not believe how much we accomplished in just one morning; it was the most gratifying and satisfying single-day volunteer experience of my life.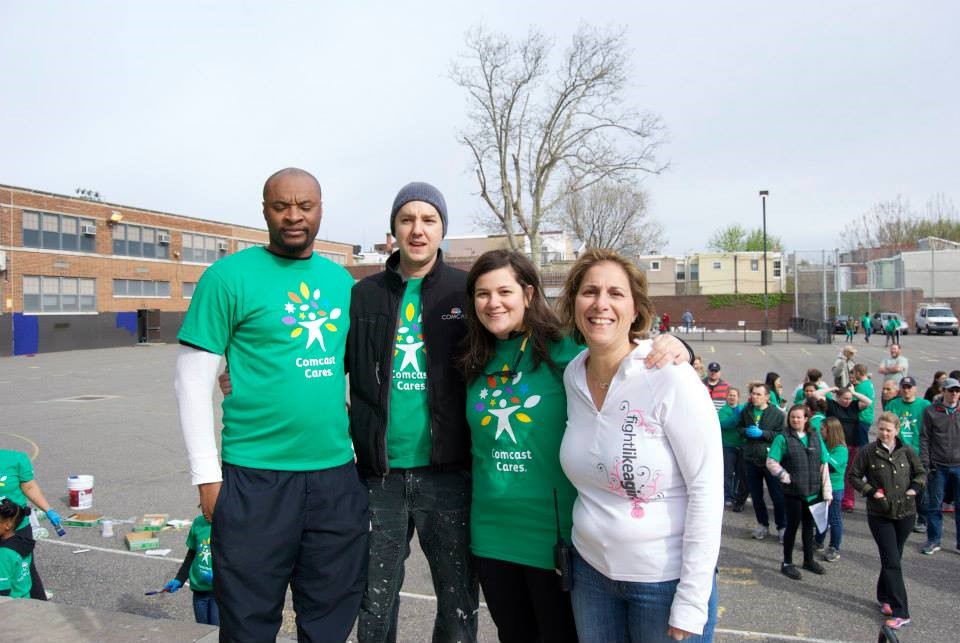 Ryan was our overall organizer, and did a masterful job at that. Ali spearheaded the massive purchasing effort, enlisting her fiancé, apartment and compact car in buying, storing and transporting so many painting and cleaning supplies. Chris led a team of Comcast technicians in building and installing a massive fabric-covered wall panel running the length of Adaire's first floor for showcasing the amazing student artwork.
I vividly remember the butterflies I felt when I got to the school at 6 that morning. "Would anyone show up?" I wondered. Then Ali arrived with a car full — and I mean FULL! — of supplies, and I had more worries. An hour later, the schoolyard was full of volunteers, and they kept coming!
As a co-organizer, my Comcast Cares Day experience was remarkable. I kept flitting between small groups tasked with completing the many projects we'd identified as doable-in-a-day and suitable for our volunteer labor. I kept having the same epiphany — these groups, led by the team leaders/super-volunteers Ryan and I identified, kept overcoming the obstacles I had been fretting about for weeks. The projects kept getting done better than I had imagined!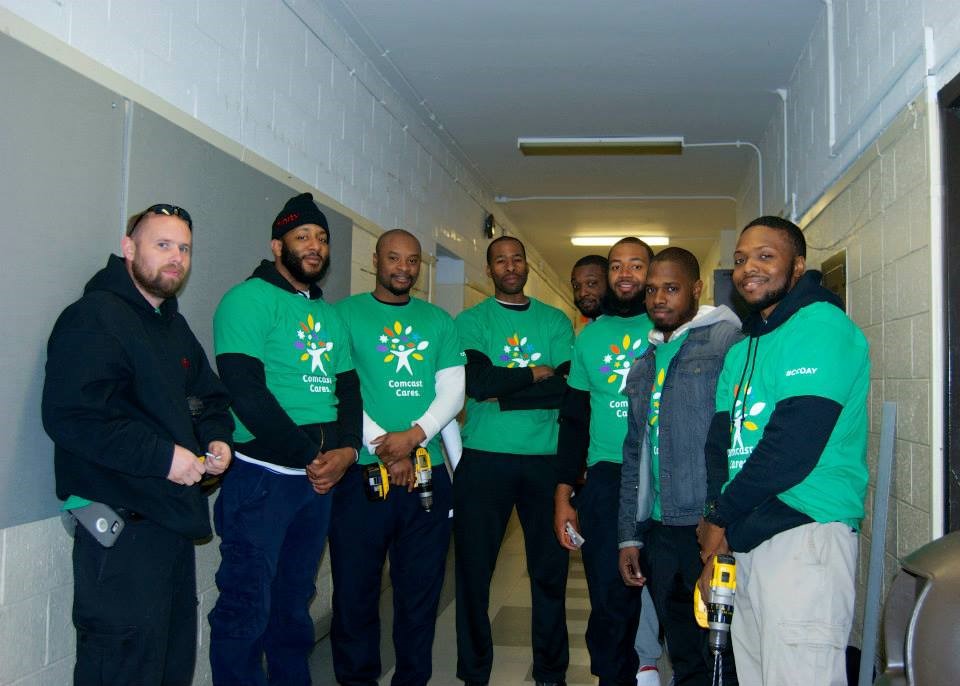 And what projects! From 8 a.m. to 2 p.m., teams of repainted the exterior walls and doorways, the gym and backboards, hallways, the teachers' lounge, the auditorium lobby and the entrance to the library. They scrubbed bathrooms and hallways, stairways and walls. They cleaned and polished the auditorium's chairs and stage and created a fabric-covered gallery wall on the first floor. They planted hundreds of flowers donated by the Pennsylvania Horticultural Society. And kids who needed a break were able to play at Hetzell's field with Imagination Playground blocks donated for the day by Fishtown Playschool.
Even the Philadelphia 76ers Flight Squad, with which I was previously unacquainted, delighted kids with a basketball skills demonstration on the asphalt court in the schoolyard.
Friends of Adaire, the organization for which I'm communications chair and the local sponsor, couldn't have achieved so much without our allies: Adaire's active Home & School Association, the leadership and vigorous participation of Adaire Principal Anna Jenkins, Adaire students, teachers, staff and parents, designers from Pixel Parlor, muralists from Art Sphere Inc. and especially Comcast.
We are thrilled that so many people — some super-involved in the school, and some who'd never seen it before — worked so hard all morning to make a huge difference at Adaire. But Comcast, and specifically Ryan Olah, made this happen. And we are so grateful for this boost of time, energy, donations and elbow grease. Everything looks great, and we had fun, too.
One of my favorite sights that morning was a blur coming into focus behind me — Ryan Olah, on his bicycle, off and quickly back on a last-minute supply run (maybe for more blue painter's tape?), coordinating on his phone as he dodged volunteers and passersby. The picture of multitasking!
All of us at Friends of Adaire are so lucky to have a friend in Ryan, and in Comcast. Thanks again, for everything!