In late April, 100,000 Comcast employees, our friends and families participated in more than 900 volunteer projects throughout the United States and in 21 other countries as part of Comcast Cares Day, a company-wide celebration of our year-round commitment to community service and the largest single-day corporate volunteer effort in the United States.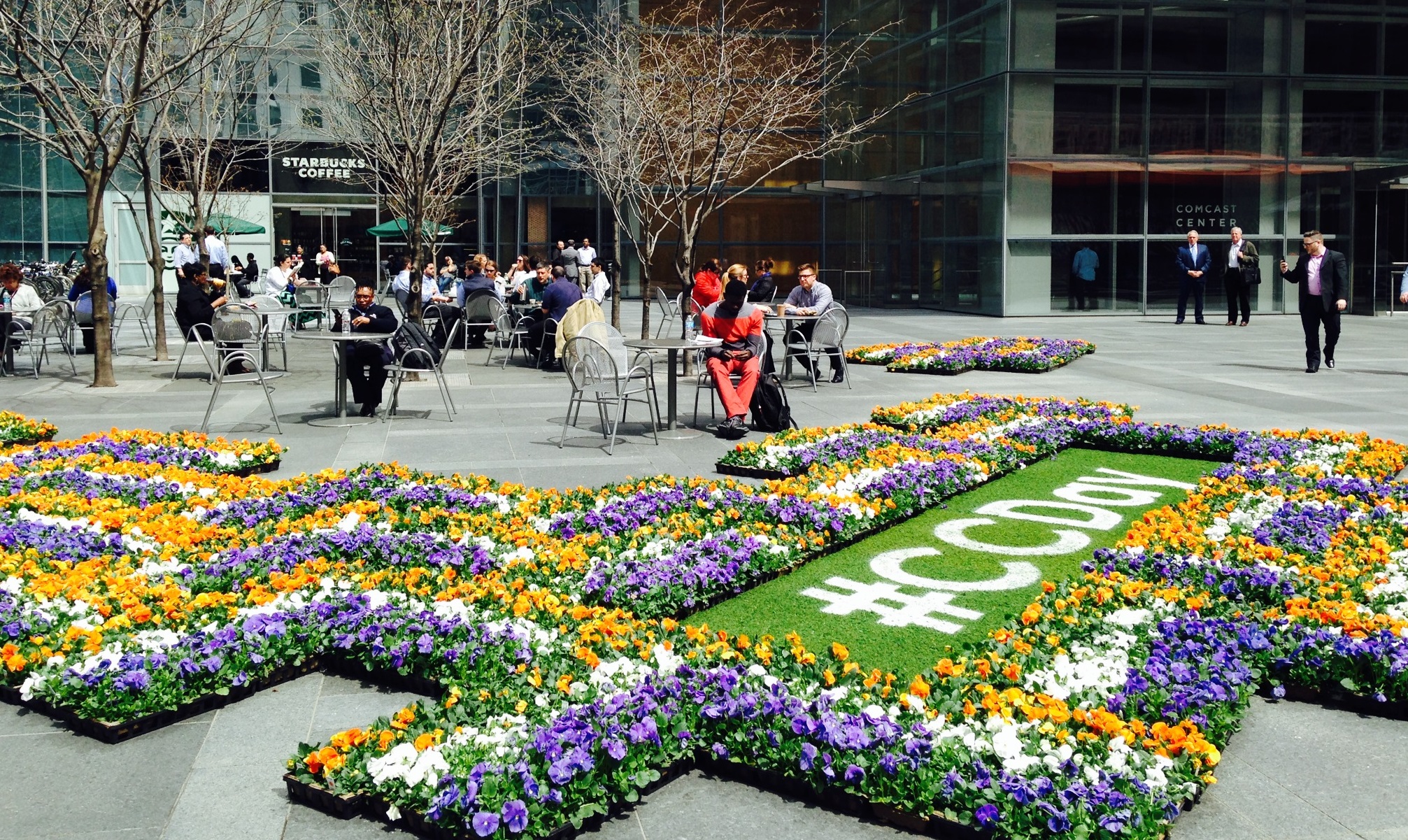 In Philadelphia, more than 4,500 volunteers helped to "make change happen" at 38 locations. Projects ranged from beautification of public schools, parks and memorials to mural painting and building a community garden. We also teamed up with the Pennsylvania Horticultural Society for a special pre-Cares Day pop-up garden at the Comcast Center. The 13,000 flowers used for the garden were then stored and planted at several Philadelphia Comcast Cares Day project locations.
We accomplished a lot on Cares Day in Freedom Region, but a few projects really stood out:
Northeast Frankford Boys & Girls Club Renovation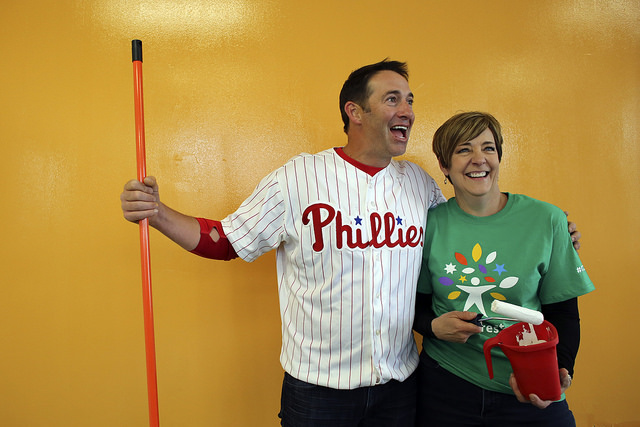 DIY Network's "House Crashers" star Josh Temple and Comcast Senior Vice President LeAnn Talbot
More than 200 Comcast volunteers joined with Scripps Networks and Rebuilding Together Philadelphia to paint and repair the Northeast Frankford Boys and Girls Club facility, which serves hundreds of children in Northeast Philadelphia.
Comcast Executive Vice President and Chief Operating Officer, Dave Watson, joined Regional Senior Vice President, LeAnn Talbot, and special guests like DIY Network's "House Crashers" star Josh Temple, Congressman Brendan Boyle and State Representative Jason Dawkins to complete a number of improvements to the club.  Thanks to a $25,000 Comcast grant, volunteers were also able to help install a My.Future Digital Literacy Lab with desktop computers, laptops and tablet computers.
Lisabeth Marziello, Boys & Girls Clubs of Philadelphia CEO had this to say about our partnership that day: "Comcast's commitment to our organization, and to the lives of the young people we serve, is felt throughout the city."
Bridging the Digital Divide in Philadelphia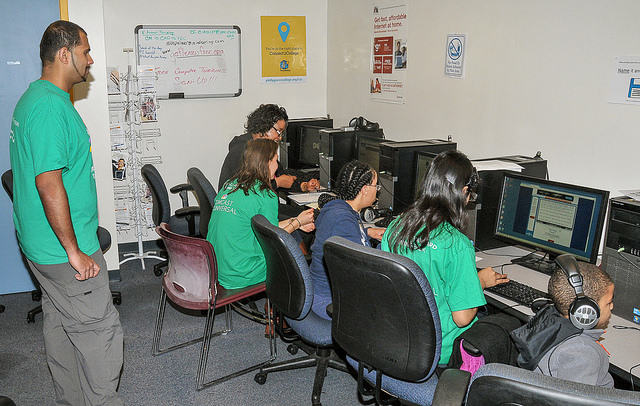 Comcast volunteers at the People's Emergency Center in Philadelphia
Comcast is committed to helping bridge the digital divide in our hometown and across our footprint.  With that in mind, we put a special emphasis on projects that help to promote digital literacy.  One such effort was at the Philadelphia Children's Foundation, a non-profit dedicated to providing educational resources and vital technology to low-income children. Our volunteers tested nearly 300 monitors, installed 130 hard drives, cleaned and prepared 150 computers, installed systems on 40 machines and sorted nearly 25 boxes of keyboards, mice and cables. The work made it possible for the organization to move up computer installation dates at two Philadelphia public schools.
Beautifying Philadelphia's Schools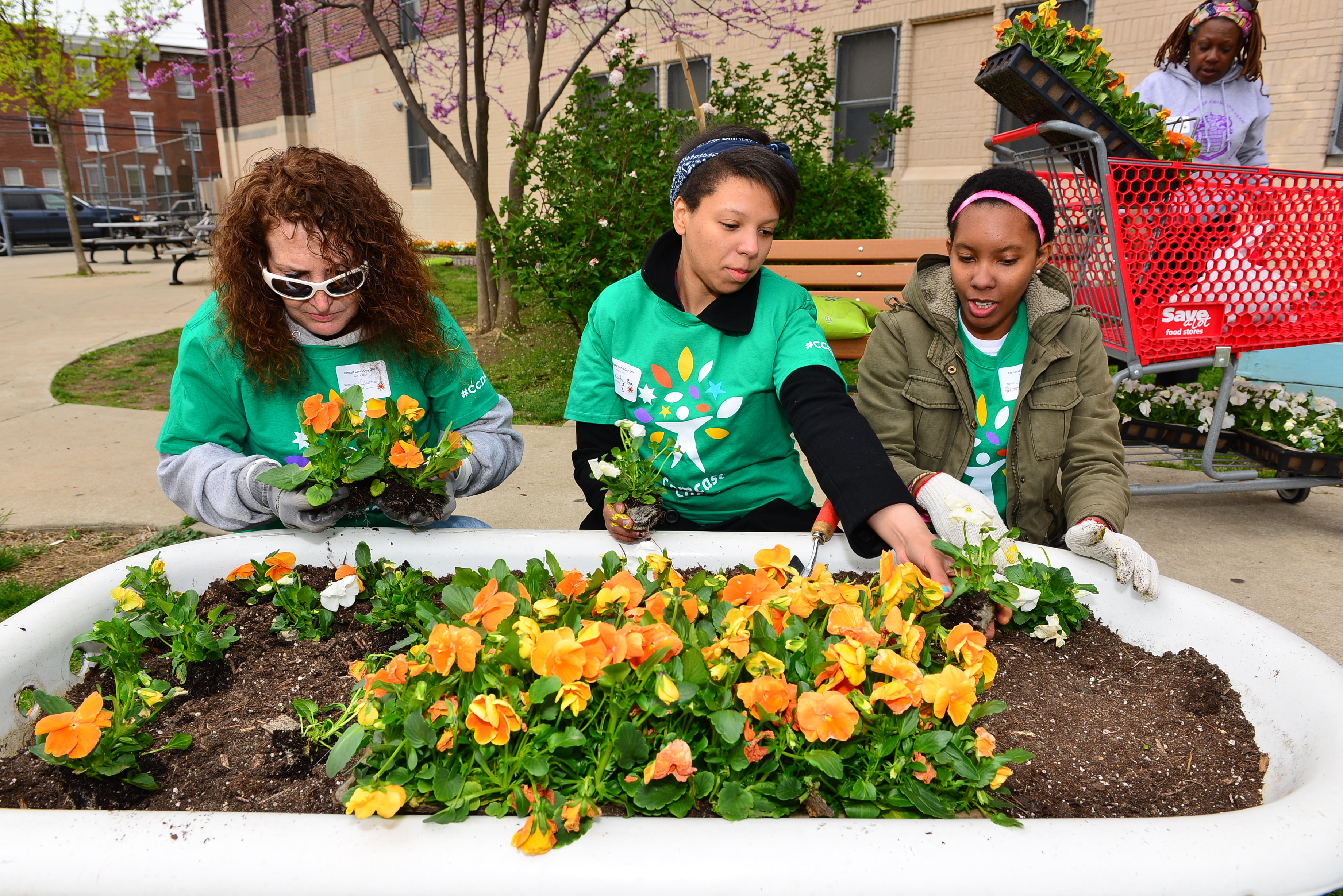 Comcast Volunteers plant flowers at George Childs Elementary School. The flowers were previously used for the Comcast cares Day Pop-Up garden.
In one of four projects at public schools across the City, Comcast volunteers worked with City Year corps members at George W. Childs Elementary School in South Philadelphia.   Comcast Executive Vice President, General Counsel and Secretary, Art Block, and Philadelphia City Councilman Kenyatta Johnson were among volunteers who helped to paint murals and inspirational quotes in the school's hallways and classrooms, remove litter on the grounds and in the neighborhood, as well as landscape, clean up and complete minor repairs to the school's interior.
At Alexander Adair Elementary School in Fishtown, volunteers worked with the Friends of Adaire organization to repaint the exterior of the building and many rooms, scrub down bathrooms and hallways, and plant hundreds of flowers from the Pennsylvania Horticultural Society.
Denis Devine, Communications Chair for the Friends of Adaire Elementary School, told us: "We are so grateful for this boost of time, energy, donations and elbow grease.  Everything looks great, and we had fun, too."
Support for Philadelphia's Community Centers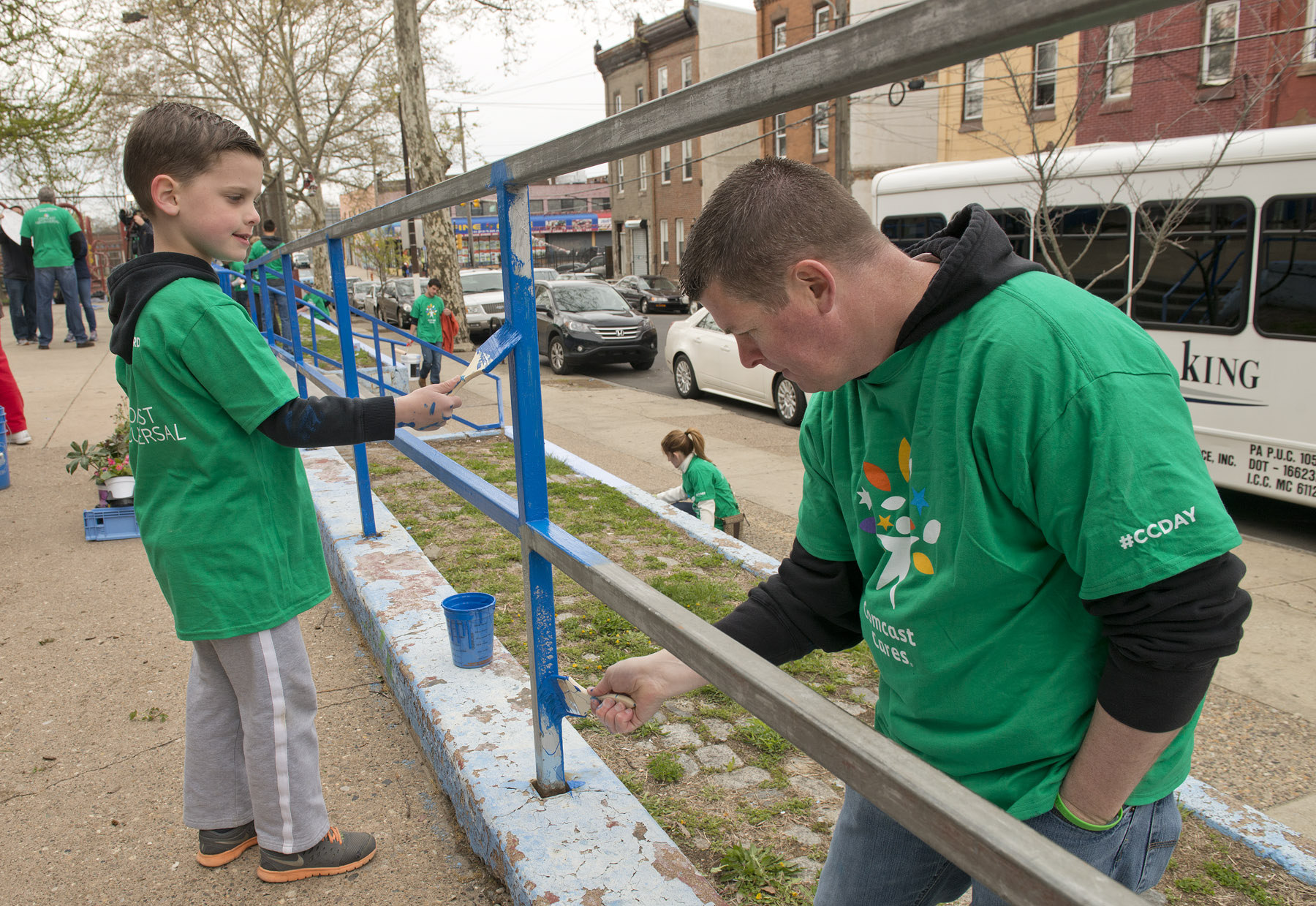 Volunteers help to beautify the Rivera Recreation Center
At Congreso de Latinos Unidos, 250 volunteers worked to rejuvenate the organization's North Philadelphia campus with the help of Councilwoman Maria Quinones-Sanchez and Philadelphia Deputy Mayor/Managing Director Rich Negrin. They expanded a community garden, cleaned up the surrounding neighborhood, installed a new gate and contributed to a mural expansion, among other projects.
Nearby, Comcast Executive Vice President and Chief Network Officer, John Schanz, and his family, State Representative Leslie Acosta and Philadelphia Council members Maria Quinones-Sanchez, David Oh and Ed Neilson were among 200 volunteers who helped to beautify and revitalize the Rivera Recreation Center and the Mann Older Adult Center.
Regional Projects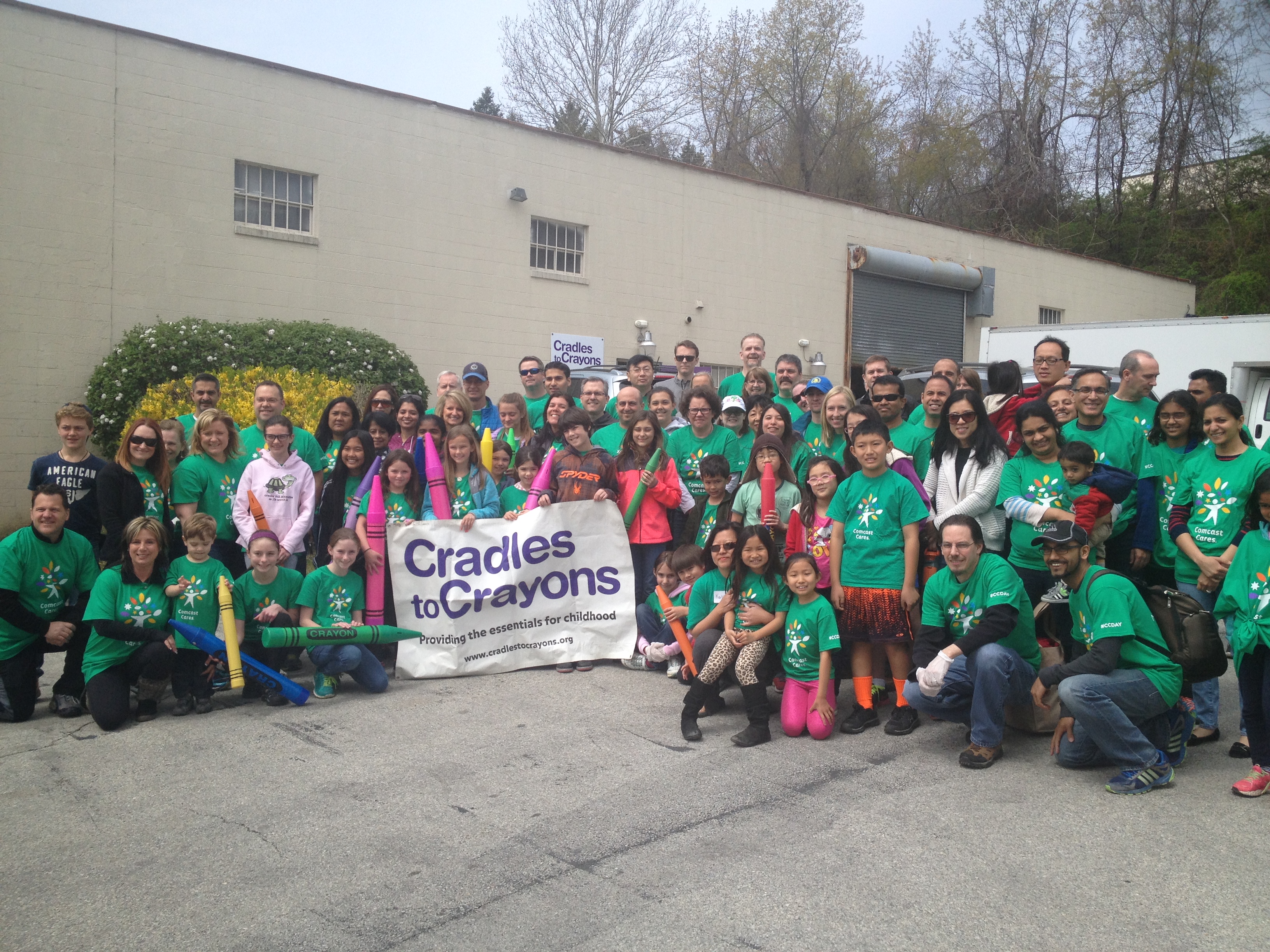 We weren't just focused on Philadelphia during Comcast Cares Day. Our team was out making an impact all over the region. We organized a number of projects and collections to benefit those in need, including six blood drives that turned out 371 volunteers.
In Conshohocken, Cradles to Crayons held a three-day project over the week of April 25 to help sort collected clothes, toys and school supplies for children in the Philadelphia region.  Nearly 3,000 children were served as a result of the project.
In Vineland, NJ, we helped a Comcast employee who also runs a non-profit in his community. Volunteers worked with Comcast maintenance technician Harry Behren's Impact Harvest to expand a garden on his property that provides fresh produce to struggling or needy nearby residents. Harry started the organization in 2011 after helping a neighbor by bringing her some extra groceries, and it grew to provide fresh produce to 120 families and 10 organizations. Also in Vineland, volunteers helped to beautify the Boys & Girls Club's Arthur Recreation Center.
All told, it was a truly amazing day to be part of the Comcast team. We look forward to seeing what we can accomplish in the remainder of the year and 2016!