On Saturday, April 25, Comcast employees, friends and family will dig in, spruce up, plant, clean and put a fresh coat of paint on community organizations, parks and more as part of the company's 14th annual day of service, Comcast Cares Day. In our region, we expect more than 8,000 Comcast volunteers at nearly 90 projects.
Being an active part of the boroughs, towns and cities we call home is not a one-day occurrence but Comcast Cares Day, considered the largest single day of corporate volunteerism in the country, is the exclamation point on our year-round community service. We lend a hand on a weekly and daily basis in places from Philly to Wilmington, Camden to Union. We volunteer for boards, help organize fundraisers, give blood, dedicate weekend hours and contribute in ways that are highly personal and unique to our employees. It's ingrained in who we are.
One of the most gratifying aspects of our community giving – including Comcast Cares Day – is the central role our employees play in selecting where our impact matters most. They are the eyes and ears that identify what is needed in their hometowns and where they work. They know when a local school's ball field needs TLC, when a local shelter could use a hand in modernizing to better suit its residents or how we can bring much-needed assistance to a food bank.
This local engagement plays out with a long list of organizations, some with broad familiarity and others that may be less than household names: Boys & Girls Clubs of Philadelphia, South Jersey Field of Dreams, Congreso de Latinos Unidos, Shamrock Reins and Camp Merry Heart.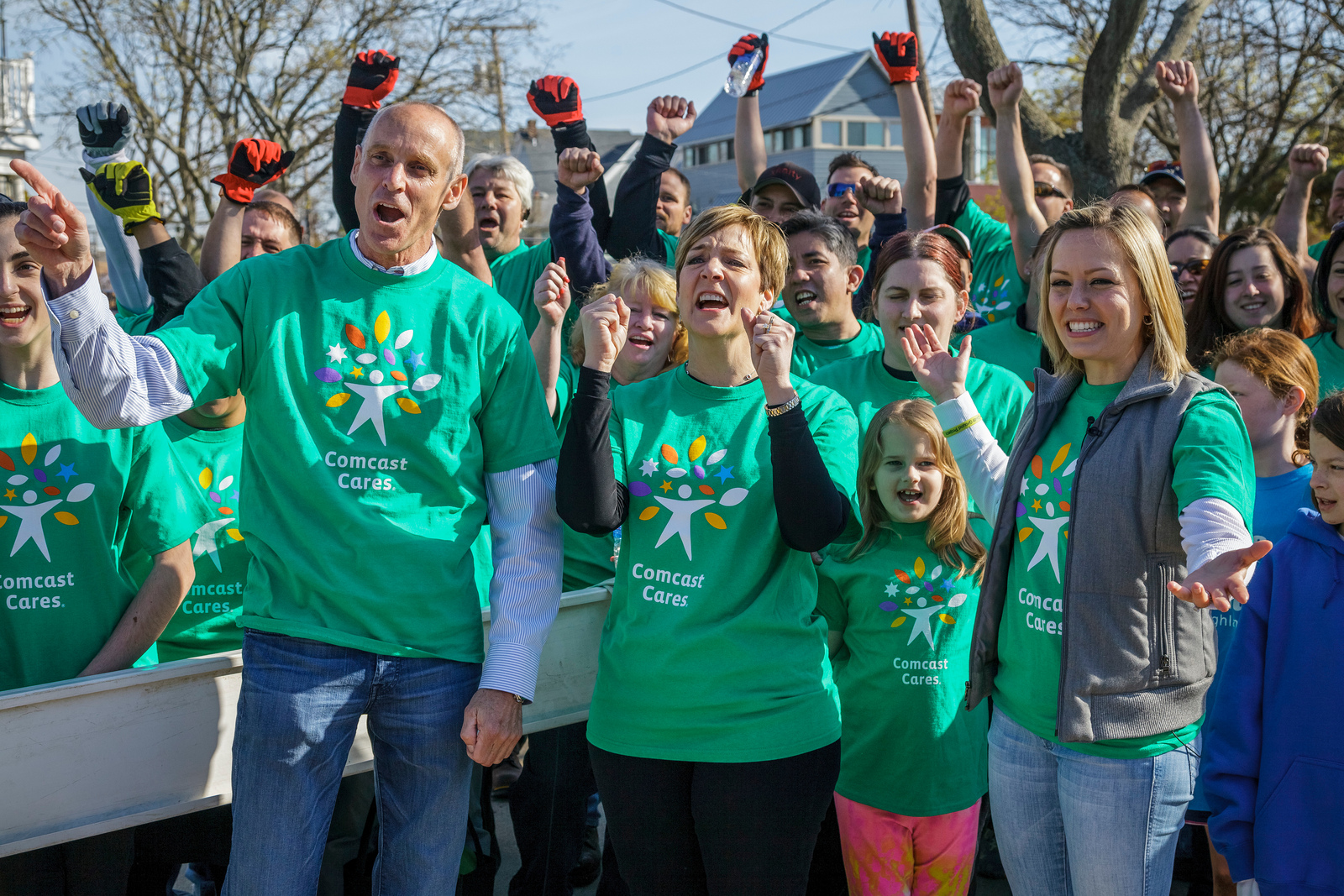 So please watch for Comcasters in green shirts on April 25. Chances are we'll be making change happen in a neighborhood near you. For the third consecutive year, we'll be digging and planting at Bartram's Garden's Community Farm, as well as beautifying parts of Philadelphia with the Mural Arts Program, through their Southeast by Southeast project. We'll lend a hand to Habitat for Humanity of Chester County, clean up parks in Boyertown and beautify Washington Crossing in Bucks County.

In New Jersey, you can find us cleaning beaches from Long Branch to Cape May and helping Camden parks and Jersey City schools. If you're in northern Delaware, wave to our employees who will be brightening the halls of William Penn High School in New Castle.
If you're so inclined, join us – we'd love to see you! Just visit our Comcast in the Community website to sign up, or register in person at a site.
See our new video discussing the tens of thousands of Comcast volunteers who come together to impact our local communities from coast to coast and abroad.