By: LeAnn Talbot, Regional Senior Vice President, Freedom Region, Comcast Cable
David L. Cohen, Executive Vice President, Comcast Corporation
Over the coming weeks and months, we'll work to finalize our franchise renewal agreements with the City of Philadelphia.  A typical franchise agreement provides for the payment of a fee for the use of the public rights of way, right-of-way management such as permitting requirements, customer service standards, and the provision of some Public, Education and Government (PEG) community channels.  Our existing agreements with the City are already robust in each of these areas, and we adhere to strict compliance standards and reporting, but we look forward to discussing and negotiating appropriate benefits for the City and its residents as part of the renewal process.
While we have more than 6,400 franchise agreements across the country and successfully negotiate and renew hundreds of them each year, this one is especially significant, as Philadelphia is the city we call home. That also means the process will likely play out more publicly than most, and individuals and organizations might have strong opinions on what the City should ask of Comcast, even though the FCC clearly delineates what a City may ask for as part of a cable franchise.
We initiated the franchise renewal process more than two and a half years ago, but the City's consultant only recently completed an 18-month "Needs Assessment Study," the results of which were not shared with us until late February and are now public. We appreciate some of the positive conclusions in the consultant's report, but overall believe many of the findings are inaccurate, over-stated, or misleading, and we will deliver comprehensive proof of those facts to the City. Importantly, the consultant never contacted Comcast to solicit objective, verifiable data, resulting in conclusions that are not based on easily available and decisive data, and that are simply untrue. For example, the report suggests that 15% of respondents claim they recall receiving a busy signal when calling customer service and that 61% claim their calls were not answered in 30-seconds – our actual data, which is reported as part of FCC compliance, demonstrates that less than half a percent (0.5%) of Philadelphians received busy signals and that more than 90% of calls were answered in 30-seconds or less, both fully compliant with FCC customer service standards. Similar discrepancies can be found in virtually all aspects of the consultant's findings and report.
This type of initial exchange and the back-and-forth that will follow is not uncommon during franchise renewal discussions and negotiations, and we wanted to take this opportunity to assure you that Comcast's relationship with and commitment to the City of Philadelphia has never been stronger. We know all involved are equally committed to a fair and transparent process and resulting franchise agreement.
Although a lot has changed in the 50 plus years since Comcast was founded here as a community antenna television system, one thing has remained constant: our commitment to our founder Ralph Roberts' vision and passion for giving back to our great City and home.  From our humble beginnings as a Philly start-up, Ralph and his son Brian have grown the company into a global leader in media and technology, while always staying true to our Philadelphia roots and entrepreneurial spirit.  Today, Comcast has grown into a 'Fortune 50' company, the only one with that recognition headquartered in the City. Over the years, we've provided tens of thousands of Philadelphians with well-paying jobs, and today we employ more than 8,000 people at our headquarters and other locations in Center City Philadelphia (which is more than six times our total headquarters workforce in 2002), many of whom also reside in the City.
Economic Impact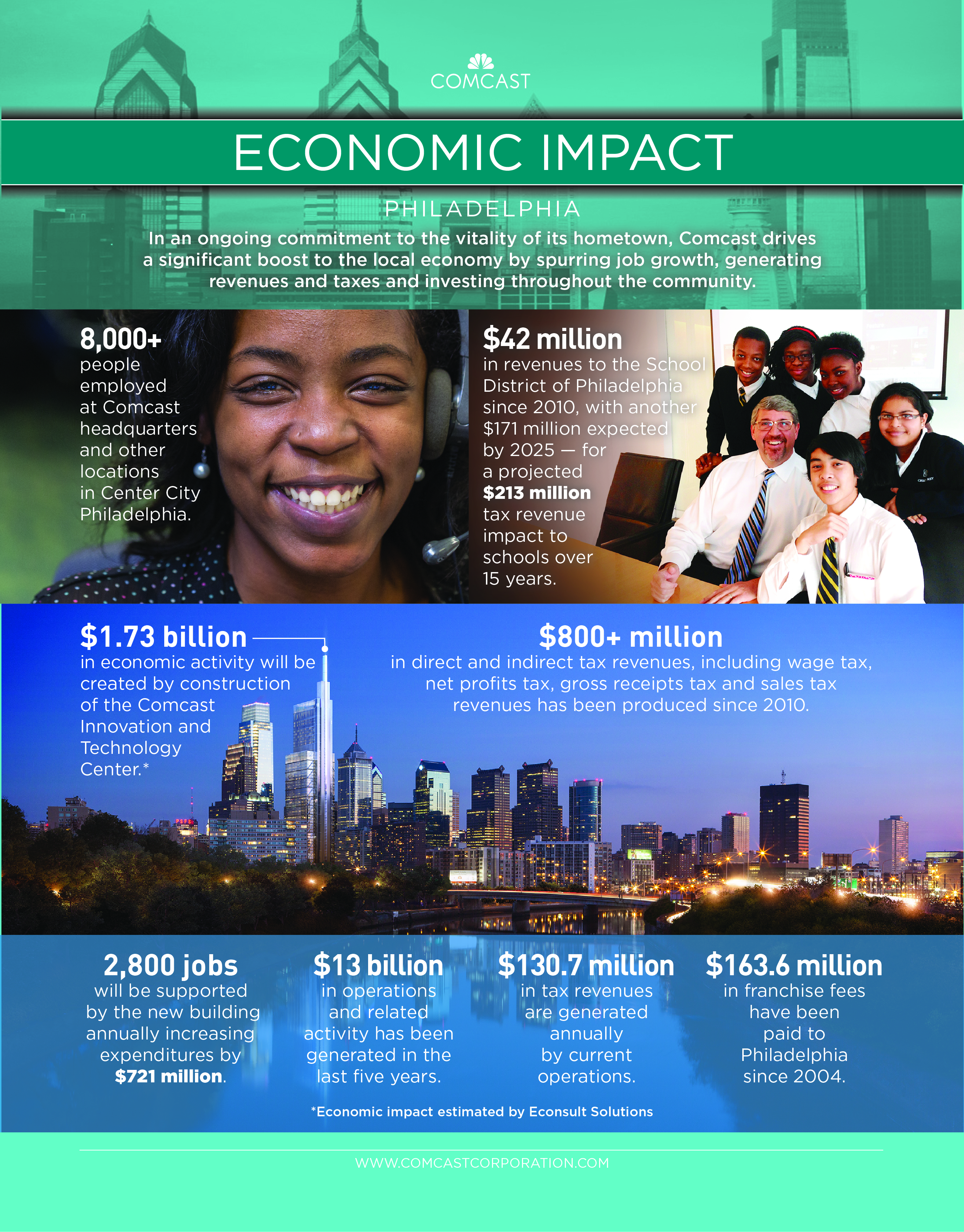 Comcast provides significant financial contributions through its economic activity, tax revenue, and franchise fees. In the past five years, our financial contributions in the City have included:
$13 billion in operations and related activity.
Over three quarters of a billion dollars in direct and indirect tax revenues, including wage tax, net profits tax, gross receipts tax, and sales tax revenues.
$42 million in revenues to the School District of Philadelphia. We will be responsible for another $171 million in revenues over the next 10 years, which mean our 15-year tax revenue impact on Philadelphia schools is projected to be $213 million.
Over 10 years, more than $163 million in franchise fees to the City of Philadelphia.
Our impact on the Philadelphia economy has increased tremendously as we've grown our global headquarters here — first with the building of the Comcast Center, a 1.2 million square-foot building that continues to bring pride and job growth to Philadelphia as one of the most high-tech, environmentally responsible and advanced corporate multi-media office buildings in Pennsylvania and the country.  Then just last year, we furthered our long-term commitment to Philadelphia by electing to develop the 1.7 million square-foot, $1.2 billion Comcast Innovation & Technology Center — a world-class, state-of-the-art, media, technology, and innovation center that expands our vertical campus — adjacent to the Comcast Center.  As the largest private investment building development project in Pennsylvania's history, this new building provides a major economic impact:
6,300 temporary jobs during the construction period alone and 2,800 permanent Philadelphia jobs as a result of ongoing operations.
$1.73 billion in one-time expenditures within the City during its construction period alone.
$721 million in expected ongoing annual activity in the City directly and indirectly related to the Comcast Innovation and Technology Center.
$21.5 million is expected in annual in City tax revenues.
In all, we believe that we are among, if not the largest taxpayer in the City of Philadelphia and School District.
Community Investment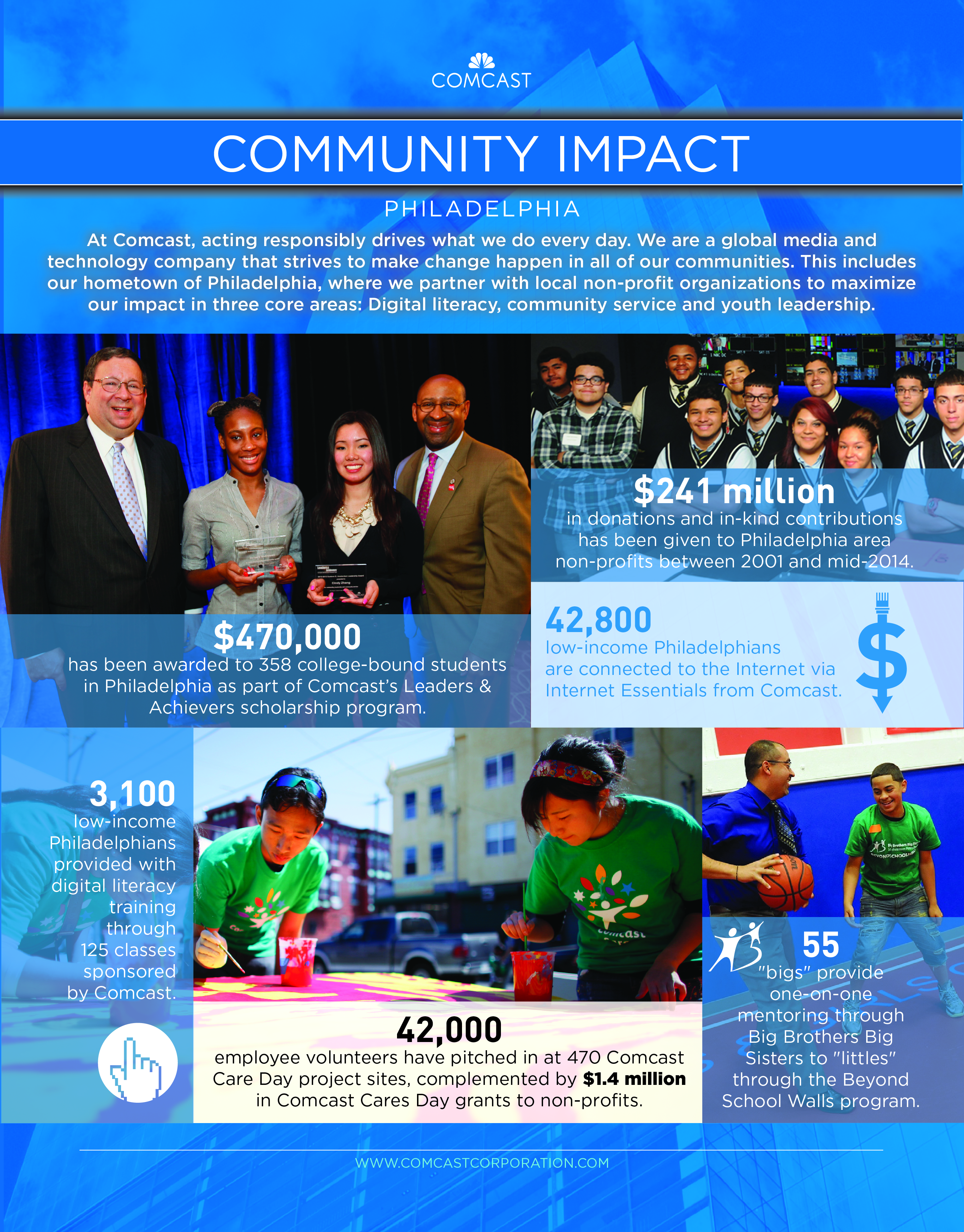 Comcast is a top charitable contributor in the City, having provided more than $241 million in cash and in-kind support to Greater Philadelphia non-profits since 2001.  We're proud of our close relationships with hundreds of non-profits, including the Urban League of Philadelphia, Boys and Girls Clubs, Big Brothers Big Sisters, the Police Athletic League, Congreso, City Year, and the United Way of Greater Philadelphia, to name just a few.
Our signature day of service, Comcast Cares Day, is our companywide celebration of service and an exclamation point on our year-round volunteer activities.  The largest national day of service in the country, we bring together Comcast employees, their families, and other volunteers to participate in dozens of projects in Philadelphia, and at least 800 across the U.S. and internationally.  Local projects for this year's 14th Annual Comcast Cares Day on April 25 range from digital literacy workshops with People's Emergency Center to collaborating with City Year to clean, paint, and landscape a local District elementary school.  Since 2001, in the greater Philadelphia region alone, more than 42,000 employee volunteers have pitched in at over 470 project sites, contributing in excess of 254,000 hours of service, complemented by $1.4 million in Comcast Cares Day grants to non-profits from the Comcast Foundation.
As a leader in technology and innovation, a key focus of our community investment strategy is building tomorrow's leaders through digital literacy.  Our nationally acclaimed low-income broadband adoption program, Internet Essentials, provides low-cost Internet service, subsidized computer equipment, and free digital literacy training across our footprint.  Over the past three and a half years, we've provided services to 10,700 low-income families with school children in Philadelphia – equating to 42,800 individuals.  Another example of our digital literacy investments is our commitment to My.Future, a multi-million dollar technology education program with the Boys & Girls Club of America designed to open the eyes of children to what's possible for them to achieve through technology.
Innovation
There is no better illustration of Comcast's mission to position Philadelphia as an innovation hub than the Comcast Innovation & Technology Center.  The 59-story tower will become a dedicated home for the company's growing workforce of technologists, engineers and software architects, and will create a media center in the heart of the City by becoming home to the operations of local broadcast television stations NBC10 and Telemundo 62.
It only makes sense — after all, Comcast has developed hundreds of innovations right here in Philadelphia that have changed the way consumers live, work, and play.  Some of these technologies include the X1 Entertainment Operating System, apps including Xfinity TV Go, our Wireless Gateway, Cloud DVR, a Voice Remote, and our recently introduced X1 Voice Guidance talking guide that is changing the TV experience for the visually impaired.
At Comcast, we constantly look at ways to bring together the best of media and technology. We're committed to innovative start-up companies that help to create cutting-edge technology—which is why the Comcast Innovation & Technology Center will provide incubator space for local technology start-ups.  Later this month, Comcast will help the City host some of the greatest minds in technology and innovation at Philly Tech Week 2015 presented by Comcast.  And we provide innovative technology at no cost to the City with "EveryBlock Philly," a hyper-local, free online service and mobile app that aggregates and curates content at the neighborhood level—helping people to explore this great city.
As we move forward with our franchise renewal negotiations, we can tell you confidently and proudly that our relationship with the City has never been stronger, and our economic and social impact has never been more significant.  Comcast looks forward to future discussions as we work to finalize a franchise agreement that benefits all involved and, especially, the City we call home along with our friends, families, and neighbors.